Social Media Activism and Social Justice Advocacy
February 18, 2020 - Sal Guardiola II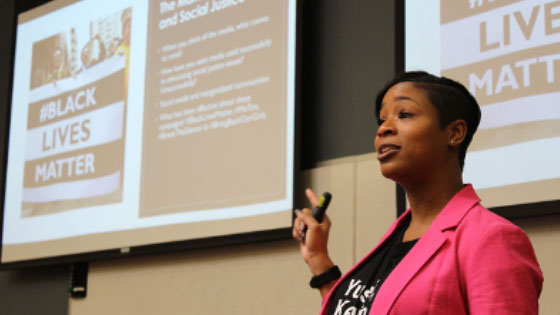 The UNM School of Law kicked off its 2020 Social Justice Lunchbox Series under the Child & Family Justice Initiative ("CFJI") last month. Dr. Brandale Mills Cox, Founder and Principal Researcher of Inclusive Market Research Group, LLC, led a dynamic discussion focused on crafting rhetoric for the advancement of social justice. Through Inclusive Market Research Group, LLC, Dr. Mills Cox assists brands in creating communication strategies that are inclusive and culturally sensitive. Dr. Mills Cox also serves on the Communications Faculty at CNM sharing her expertise in public speaking, interpersonal communication, and gender and communication.
Dr. Mills Cox artfully articulated and executed her goal of covering elements of the science of communication while simultaneously creating a space for conversation regarding the nexus between social media and social justice. Viewpoints reflective of the culturally diverse group of attendees arose throughout the conversation. Among those in attendance were law students, law professors, communications personnel from nonprofit organizations, and Child & Family Justice Advocates under the CFJI.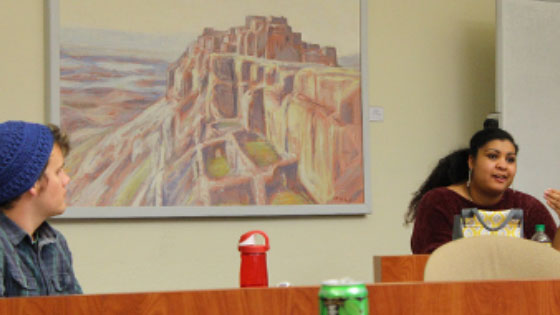 One of the participants in the discussion, Child & Family Justice Advocate Nat Saing ('22), introduced the topic of dominant language in social media activism citing #MeToo as an example (#MeToo is a survivor-led movement to end sexual violence and harassment). Saing described how in China the government censored "#MeToo" on social media, prompting the Chinese people to opt for an alternative message. That alternative message became the combination of a rice emoji and a bunny emoji, as well as "#RiceBunny," because in the Chinese language, "rice bunny" is pronounced as "mi tu." This act of communication ingenuity allowed the Chinese people to circumvent censorship and actively partake in the movement to end sexual violence and harassment. While in this case participation in social media activism was still possible, Dr. Mills Cox lamented the reality that "even as inclusive as social media can be, it can still exclude certain groups."
As Dr. Mills Cox concluded the discussion, she invited the audience to consider the question of whether social media activism is making people lazier in their social justice advocacy after sharing a statistic that 53% of all U.S. adults have engaged in some type of social media activism.  Although there was no definitive answer, the sentiment in the room was that the metric for successful social justice advocacy, in person or online, lies in the question social justice warriors must ask themselves: "Are we seeing the changes we desire?"
Join us for our next Social Justice Lunchbox this Thursday, February 20 titled "Reluctant Leadership" led by UNM Law Professor Sherri Thomas. To learn more about the Child & Family Justice Initiative, visit our website here or tune in to our video podcast on YouTube here.