Student writing award only the starting point for UNM Law grad
June 5, 2020 - Kenn Rodriguez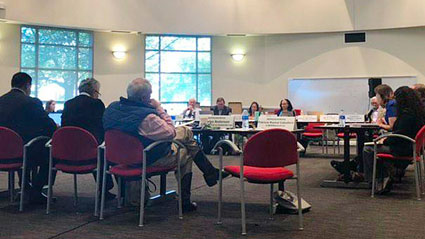 UNM Law School alumna Denali Wilson says she is passionate about ending excessive and extreme sentencing for
youth offenders in New Mexico. Wilson was recently awarded the 2020 Raymond W. Schowers Prize for student writing.
The winning paper, titled "Another Chance: Towards Constitutional Sentencing of New Mexico's Youth" is centered on the case of Michael Brown, a New Mexican who was sentenced to life plus 42 years for his involvement in the murder of his grandparents, Ed and Marie Brown. Michael Brown, who was 16 years old at the time, has already spent 27 years in prison and will turn 43 this month. Today he is a leader and a mentor to others in prison, a loving husband, and stepfather.
Wilson says she was inspired to begin her work, which centers on ending excessive and extreme sentencing in the state, during her first year of law school.
Wilson says she became involved "through proximity," living with a roommate who had a connection to a person who, like Michael Brown, was serving a life sentence for a violent crime that occurred when they were a teenager.
"Watching my friend and watching this person serve this sentence without any ability to access legal services to challenge it was something I became really motivated about," she relates. "And finding myself in law school, I tried to shape my classroom experience and opportunities that I had as a student around responding to that need that I saw. And what I discovered very early on is that this wasn't a unique situation."
Wilson said there are nearly100 people in New Mexico serving very long sentences for crimes committed as children – many of them serving sentences "that carry the very real possibility that they'll die in prison."
"The story in the paper is one ingredient in a lot of different moments throughout law school that I really tried to find a way to use my legal education, or to shape my legal education around the things I was already passionate about," she says.
Wilson says writing "Another Chance: Towards Constitutional Sentencing of New Mexico's Youth" gave her a chance to to address a Constitutional law issue from a human standpoint.
"I could write a paper about Supreme Court precedent and how important this is and… that New Mexico is out of compliance with the Supreme Court right now and that's a good paper right there," she says. "I'm showcasing that this is unconstitutional."
She continues, "But it's one thing talking about something being unconstitutional and it's another thing about it just being wrong. And I think you get there by learning Michael's story. And that was a really big part of the writing project for me. It really wouldn't have meant a lot to write this paper about Michael, and submit to a class, and then just leave it."
After graduating with the Law School Class of 2020, Wilson is currently continuing her work for the next year at the American Civil Liberties Union of New Mexico (ACLU) in partnership with Fathers Building Futures as a Corinne Wolfe Transformative Advocacy fellow through the UNM Law School's Child & Family Justice Initiative.