Burr's service to communities continues
July 20, 2020 - Kenn Rodriguez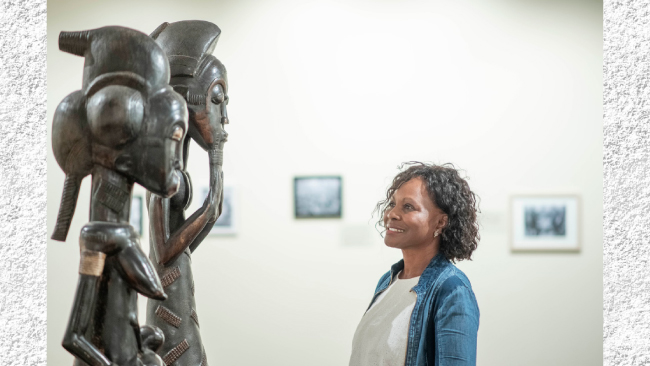 Life after law school has been anything but sedentary and sedate for Professor Emerita Sherri Burr.
Burr officially retired from teaching three years ago after a distinguished career that spanned 30 years, a noteworthy span that saw her become the first African-American woman to be granted tenure and promotion to full professor at the University of New Mexico and serve as acting director of Africana Studies from 2008 to 2009.
At the Law School, Burr taught intellectual property law, art law, entertainment law, wills and trusts, and international law. Now she's heading up the New Mexico Press Women as well as writing books – her book "Complicated Lives: Free Blacks in Virginia, 1619-1865" (Carolina Academic Press) was recently nominated for the Pulitzer Prize in history.
"I was thrilled to be nominated for the Pulitzer Prize," said Burr recently. "I thought I couldn't tell anyone about the nomination until the Pulitzer committee announced its finalists and winners. Even though I was not a finalist or winner, my New Mexico Press Women colleagues have assured me that it is, indeed, an honor to be nominated."
Burr's work with New Mexico Press Women began long before she became president in 2018. She actually started working with them as a presenter and lecturer in 2005. The organization's recent activities, both in-state and nationally, were curtailed by the COVID-19 pandemic, The organization since pivoted to online presentations, hosting a pair of successful Zoom dicussions this summer
The first, "A Conversation in Memory of George Floyd" was a members-only conversation with NMPW First Amendment Chair (and UNM Law School professor) Maryam Ahranjani, Jacqueline Divine, a reporter with Las Cruces Sun-News, and the Rev. Charles Becknell Jr., the director of UNM's Africana Studies Program, who was himself a victim of racial hatred in recent months.
"They talked about the challenges of the time period," Burr said. "To be able for the protesters to explain and let people know that they're basically fed up with all that's happened in terms of police killing black people, and particularly young black males."
Burr said the panel was particularly important for several reasons, pointing to a recent national study that showed that the sixth leading cause of death for black males, between the ages of 15-25, is "death by cop."
"I think more people are waking up to the fact that this is not something that should be tolerated in a civilized society. A civilized society should honor the humanity of all its citizens,' she concluded.
The second Zoom presentation, which was open to the public, discussed coverage of the COVID-19 pandemic.
"There has always been a certain amount of specialization (in journalism)," said Burr. "The purpose was to have a conversation with journalists who have had to turn themselves into public health experts," she said."
The presentation has been archived here at the NMPW website.
Burr recently joined the Authors Guild Foundation Board of Directors. Based in New York City, the foundation "educates, supports, and protects American writers to ensure that a rich, diverse body of literature can flourish." Burr said joining the AGF permits her "to advocate for legislation to protect the rights of authors."
"I've taught Intellectual Property Law to students and writers all over the world and joining the Foundation Board represents my first opportunity to advocate for legislation," she said.
Burr, who spearheaded the creation of the Law School's Art Gallery in 2013 as the chair of the school's Art Committee, said she is also "thrilled to have the opportunity to serve the Albuquerque arts community" as a member of the Albuquerque Museum Board of Trustees. She joins the board officially for her four-year term on August 1.