Two UNM Law Students Receive Natural Resource Scholarships
May 25, 2021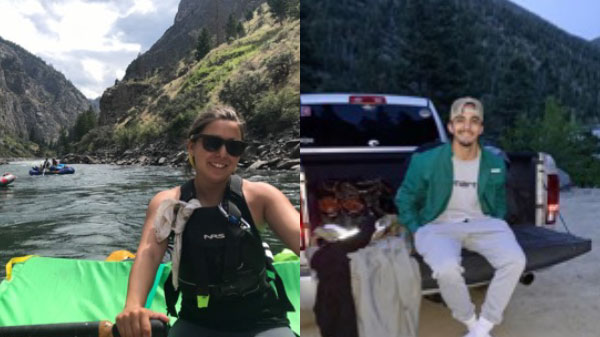 Left: Rachel Grabenstein rafting on the Middle Fork Salmon River, Idaho.
Right: Shapes Padilla after fishing at Cabresto Lake, New Mexico.
The Rocky Mountain Mineral Law Foundation has awarded scholarships to two University of New Mexico Law Students.  Rachel Grabenstein and Damian "Shapes" Padilla, both Class of '22, will receive scholarships from RMMLF, a nonprofit organization dedicated to education and scholarship in natural resources law.
Padilla, of Isleta Pueblo, received the Equity and Inclusion Scholarship.  RMMLF recently established this award in an effort to expand access to careers in natural resources law and improve diversity in that field.  Black and Indigenous law students from any U.S. or Canadian law school can apply for the Equity and Inclusion Scholarship, and Padilla was one of two selected to receive this new award.
"I'm grateful to be a recipient of the Rocky Mountain Mineral Law Foundation Equality and Inclusion Scholarship," said Padilla.  "I hope to pursue a legal career that focuses on the preservation and protection of our natural resources.  This award will help further my legal education as I continue to learn about the complex issues surrounding this area of law."
Grabenstein received a RMMLF Scholarship for the second straight year.  She is believed to be the first UNM Law student to earn repeat awards from RMMLF.  "I am extremely honored to have received this scholarship. I'm looking forward to my third year of school and the opportunities this scholarship will allow me to pursue," said Grabenstein.
RMMLF scholarships are awarded competitively to applicants from 35 law schools in the U.S. and Canada.  This year nearly 100 students applied, and 36 students received awards through RMMLF totaling over $275,000.  Several UNM students have received RMMLF scholarships over the years, especially since 2009.