Current SBA Vice President Advocates For Student Involvement
January 28, 2022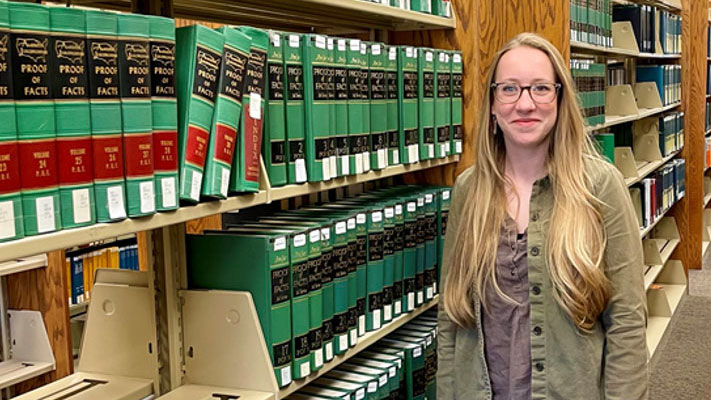 Law school is a time to learn and grow as a person, and can also be a time to get involved with the school community. Taylor Bingham ('22) is the interim president, and soon-to-be vice president, of the Student Bar Association (SBA) and advocates for students to get involved in any way possible.
The SBA serves to represent and advocate for all students' interests and is comprised of an executive board and subcommittees. They wear many hats, including facilitating events, organizations, and projects.
There are several committees that students can join without having to be elected to a board position. For example, the Mental Well-Being Committee is working closely with the State Bar of New Mexico to create more mental health initiatives for law students and has been invited to participate on a podcast.
There are also open meetings for any student who wants to know what is going on with the SBA and take part in their voting. Bingham said open meetings are a chance for students to have a say in how to allocate SBA funds. 
Currently, Bingham and the SBA are working with faculty to strengthen the attendance policy based on COVID-19 because she said there has been confusion surrounding the current policy. This is one issue Bingham said she would love people to share their opinion on during an open meeting so that she can share them directly with those who make decisions on such issues.
For the SBA, building a sense of community and having fun together is important. Recently, their events committee organized a successful Fall Fest and is currently planning the Barristers Ball, which is to be held at Sandia Casino & Resort.
There are also opportunities to be class representatives, or even act as a faculty liaison. Bingham previously served as the faculty representative, which she said she enjoyed because the representative can vote on some faculty decisions on the students' behalf.
Bingham said she would also want to see the SBA expand its community outreach by teaming up with an outside organization.
"I think it's important that we continue to give to the community that gives so much to us," she said.
She recognizes that law school is overwhelming and participating can be seen as an added stress, but she encourages students to get involved in some way, even if that means just attending the open meetings.
"There's so many of us and we're a really cohesive team," she said. "Also, we're all in law school so we understand [people have] stuff going on; we get it."
The SBA is holding elections next week to vote on a new president who will serve the rest of the year. Bingham will transition back into her role as first vice president and 3L class representative. They will hold another election in the spring for any openings due to graduation.
Bingham said to check out the SBA's social media accounts (@unm_sba) and event calendar on the UNM Law website to learn about when open meetings and elections are   held.
Bingham is originally from Wyoming, but fell in love with the Southwest during her time as an undergrad at Northern Arizona University. She enrolled in Teach for America and was placed in Gallup, New Mexico almost a decade ago.
Her time in Gallup inspired her interests and love for New Mexico. She is passionate about rural and poverty law, which often go hand-in-hand. She has focused a lot on federal Indian law, family law, and environmental law in terms of serving rural communities.
"I think justice should be accessible to everybody, not just people who live in close proximity to a town, or have the resources to access it," Bingham said.
Outside of being a student and all of her School of Law activities, Bingham enjoys spending time with her two children.