Celebrating UNM School of Law Alumna Marsha (Head) Hardeman
February 15, 2022 - Lena Kassicieh
Marsha (Head) Hardeman hadn't always envisioned herself as the multi-talented law school graduate, educator, and civil rights advocate that she is now. Born in Indiana, Hardeman originally studied sociology and psychology. Fascinated by the human psyche and why people do the things they do, she knew she wanted to work with people. She had a passion for helping people and being involved in her community and saw these fields as ways to continue doing that professionally. It was not until she moved to New Mexico with her husband in the 1970s that she thought about graduate school, and what her next steps might be. 
While looking into graduate programs, she saw that the UNM School of Law was ranked nationally as one of the top five clinical law programs. "The idea that this clinical law program sought to serve the community really appealed to me, so I applied," she says. Turns out, it was one of the best decisions she ever made.
After admission to the UNM School of Law, Hardeman found many ways to get involved. At the time, the Dean was Fred Hart, and Robert Desiderio was Associate Dean. Hardeman recalls both leaders very fondly and says that the school really felt like a second home. "Students really had the opportunity to forge relationships with professors, which was such a rare thing. Many of those relationships have lasted until this day. There is a distinct longevity to these friendships; people have stayed connected and are still friends all these years later."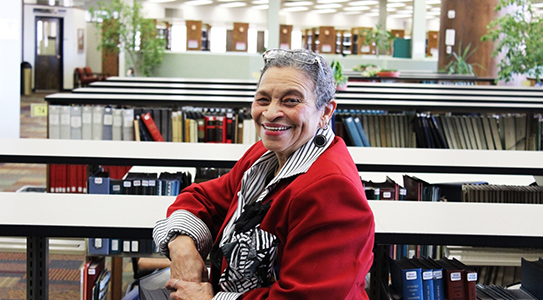 Marsha (Head) Hardeman recalls many fond memories in the Law Library
For nearly all three years of law school, she baked her way through. She first started by bringing in homemade goods and sharing them with the faculty as gifts. Fred Hart, the dean at that time, who savored the smell of the homemade fruit cake, told her she should start selling them, and with his blessing, she did just that. With the honor system, she'd leave the goodies in the cafeteria, and students and faculty would put some change into a little, slotted coffee can she had made. At the end of the day, she'd go collect her money, and that's how she helped pay her way through school.
Outside of her baking hobby, Hardeman found many ways to get involved with the school and her fellow students. She was the first woman and first Black student elected as the Student Bar Association president, from 1976-77, and she also served as the Black American Law Students' Association (B.A.L.S.A.) president from 1975 through 1976. After she graduated in 1977, she went on to work for the City of Albuquerque in the City Attorney's office, as court administrator for the old municipal court, then later as personnel director for the City. Before she left her various roles with the City, she had served under three (and a half!) different mayors, with additional service as Director of the Human Services Department and Director of the Albuquerque Convention Center. Her career then took her in different and diverse directions, a testament to her character and her desire to stay active, continuously be learning and engaged with her communities. From starting her own management training/consulting business and educating people about employment law, legal liabilities in the workplace, cultural diversity and civil rights trainings, to teaching at the University of Phoenix in subjects ranging from criminal justice, human resources management, business law and business communications, Hardeman has done it all, and continues to be actively involved in a variety of ways with her church and community.
But Hardeman doesn't just define herself in these ways; she believes in being a well-rounded individual with many different experiences, because that's how she believes you grow and learn. Something she views as a lifelong pursuit.
Her passion for pedagogy and raising awareness about civil rights continued into her current role as an Adjunct Faculty member with The University of New Mexico's Africana Studies department. Hardeman has been teaching Introduction to Black Studies, The Civil Rights Movement, Black Women in the Civil Rights Movement, Blacks in the U.S. West and The Harlem Renaissance, amongst other courses. "Every teaching modality drills down the learning in different ways, as experiential, practical application, and relatable, historic fact.  My goal in teaching is to find ways to encourage learning through one of those modalities in a way that is fun and engaging," she says about her approach. "I am inspired by mentors who have engaged with their communities and histories. You have to make history and the stories therein relatable for students; I just show that we are all so inextricably connected to one another. People get it," she adds. She goes on to quote poet laureate Maya Angelou, who wrote, "We are more like, my friend, than we are unalike."
"I am inspired by mentors who have engaged with their communities and histories. You have to make history and the stories therein relatable for students; I just show that we are all so inextricably connected to one another."
Hardeman is an inspiration to speak with, listen to, and learn from, and the UNM School of Law is proud to celebrate her as an alumna and a trailblazer in her field and community.