UNM School of Law Featured in 2022 PreLaw Magazine
March 11, 2022 - Cheyenne Trujillo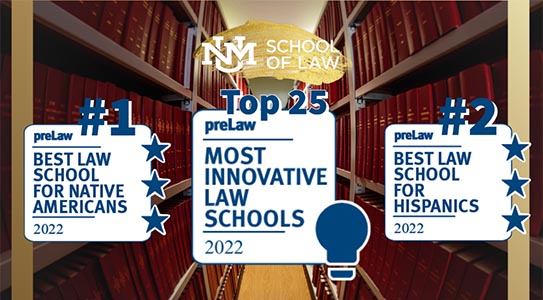 This year UNM School of Law was highlighted in preLaw Magazine for diversity and innovation; recognized as a top school for Native American students, the second top school for Hispanic students, and celebrated for the innovation behind the Border Justice Initiative and the Marshall-Brennan Constitutional Literacy Project.
The Marshall-Brennan Constitutional Literacy Project was highlighted as a key project supporting the school's diversity efforts. The project remains robust after 10 years and seeks to educate high school students about the Supreme Court cases that affect young people and gives them an opportunity to participate in a citywide moot court competition. This year there were four public high schools in Albuquerque and nearby American Indian communities who participated, and we are grateful to all the organizers who make this project possible.
The preLaw magazine recognized UNM School of Law as the 'Best School for Native Americans', and interviewed two of our current 3L students, Waste Wi Young and Juan Rey Abeita, about their experiences at the school. Waste Wi Young is known for her role as a protester of the Dakota Access Pipeline and is a member of the Standing Rock Sioux Tribe. Juan Rey Abeita is a member of the Pueblo of Isleta and discussed how important it is for him to get a J.D. and how more Native Americans need to be in law school. The magazine also celebrates the UNM School of Law's long history of offering Indian law and its commitment to educating Native American students.
UNM School of Law was also featured for the Border Justice Initiative, which gives students the opportunity to learn with and provide immigrant communities with legal services. These students "provide solutions to complex humanitarian issues through policy and litigation."