Celebrating a legend: Tribute event held for Barbara Brown Simmons
March 6, 2023 - Carly Bowling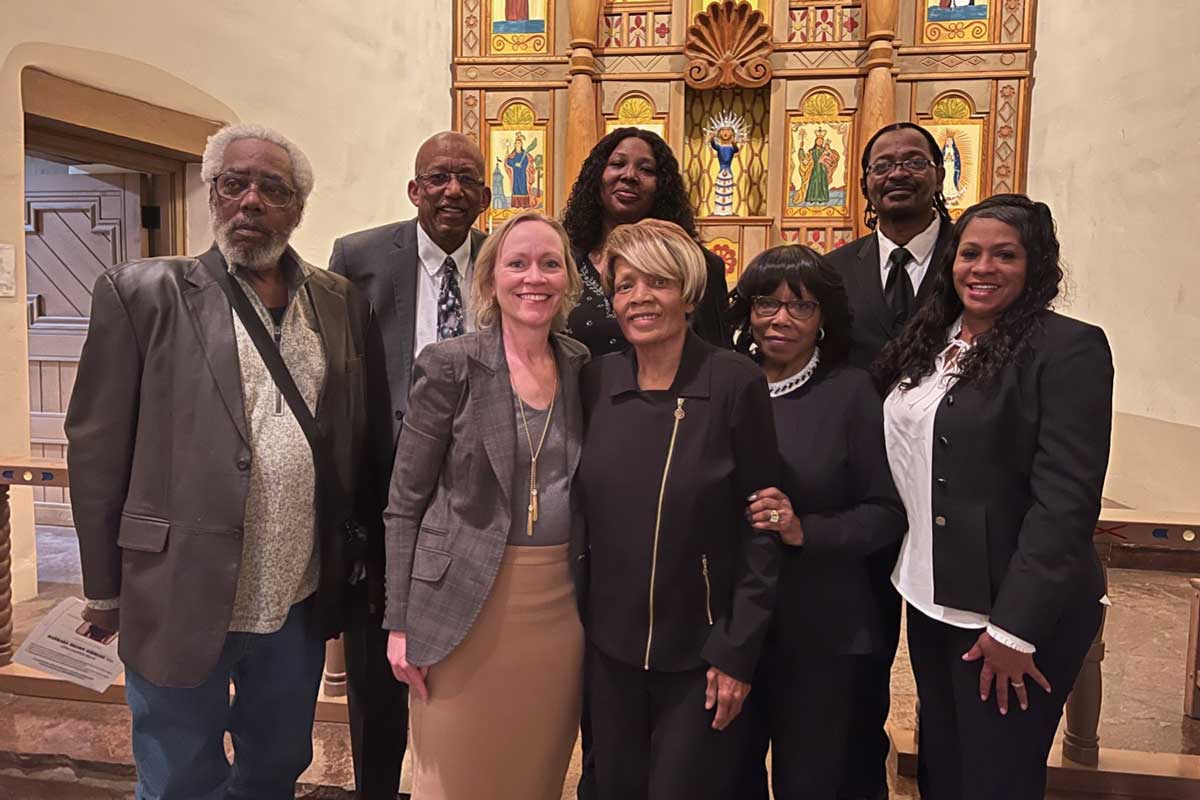 The life and legacy of University of New Mexico School of Law alumna and trailblazer, Barbara Brown Simmons ('74), was celebrated on Jan. 27 at the UNM Alumni Chapter.
Brown Simmons, who died July 14, 2022, left an indelible mark on UNM as the first Black woman to graduate from the School of Law and the first Black woman to become a member of the New Mexico State Bar.
"As we mourn Barbara Brown Simmons' passing, we also celebrate her life. We are so honored to have Mrs. Barbara Brown Simmons as a highly distinguished alumna of the UNM School of Law. We treasure her work and her legacy," Camille Carey, UNM School of Law dean, said.
The event was planned by members of many of the organizations impacted by Brown Simmons including the School of Law, African American Student Services, Africana Studies and the Alumni Association Black Alumni Chapter.
Speakers included Harold Bailey, Helen Hamilton, Sam Johnson, J.D., Alfred D. Matthewson, J.D., James Lewis, Joe and Rita Powdrell, Lawrence Roybal, Charles Becknell Jr, Charles Becknell Sr, Chuck Roberts, Kirsten Buick, and Brandi Stone.
Alfred D. Matthewson, Dean Emeritus for the School of Law, met Brown Simmons shortly after joining the Law School faculty in 1983 and immediately recognized her impact on both the School of Law and the larger University community.
"She was definitely a difference-maker and one of the most important people in the history of UNM," Matthewson said. "She was a tireless advocate for social justice as an undergraduate, at the law school, and in her career."
While in law school, Brown Simmons received The Dean's Award for outstanding scholastic and political achievement. She also served as the regional director for the National Black Law Students Association, responsible for recruiting Black law students to UNM. During her time as regional director, she was able to bring the organization's national board meeting to the UNM School of Law, where board members voted to establish what is now the Thurgood Marshall Moot Court Competition, according to Matthewson.
Her 1960s paper, "Break the Chains'' helped encourage UNM to establish a Black Studies Program, now known as the Africana Studies Department.
After graduation, Brown Simmons went to work as a criminal defense attorney. She believed everyone was entitled to fair representation.
In addition to a vibrant career of advocacy and close-knit family life, Brown Simmons found time to encourage the next generation of leaders. She mentored Brandi Stone, director of African American Student Services, when she was a student intern on campus and watched her career take shape into the director-level position she holds today.
"I'm so grateful for the opportunity to have met a living legend on our campus," Stone said. "The ways we think about diversity, equity and inclusion on this campus were very much shaped by Ms. Barbara's activism in the 1960s."
Later in life, Brown Simmons helped establish the UNM Alumni Association Black Alumni Chapter. In 2016, she spearheaded The UNM Black Alumni Chapter Oral History Project, which features interviews from 10 prominent figures in UNM's history. She was also responsible for the creation of the chapter's Trailblazer and Living Legend awards.
The School of Law established a fund to help create an endowed scholarship in memory of Brown Simmons. Those interested can donate
here.