Cy Pres Award Establishes Fred Hart Chair in Consumer/Clinical Law
February 9, 2010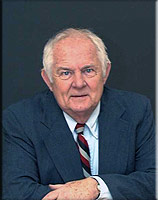 The UNM School of Law closed a year-end gift of nearly $1.4 million toward the creation of the Frederick M. Hart Chair in Consumer and Clinical Law.
The gift came through a cy pres award from the settlement of a class action against Old Line Insurance. The initial lawsuit made various legal claims stemming from the company's notice to buyers between 1980 and 2002 that the premium of their term life insurance would cost a certain amount, but then it charged them more if the buyer paid monthly, quarterly or semi-annually, without telling the buyer. The claims were boiled down to a breach of contract claim, which Old Line settled in June 2008 for $15 million.
While it is not unusual to have funds left over in a class action settlement, what was unusual in the Old Line case was that the related parties and attorneys, at the end of the case, agreed on a meaningful distribution of the unclaimed funds: to donate them to the School of Law.
The plaintiffs' attorneys were: Lisa Enfield (`87), David Freedman (`73), Robert Hanson, Alan Konrad, Dennis McCary and Floyd Wilson.  Andy Schultz (`84) represented Old Line. Judge Linda Vanzi (`95) signed the cy pres order on her last day as a district court judge in 2008, before moving up to the state Court of Appeals.
"In the spirit of Professor Hart's infinite contributions to the School of Law, the establishment of the Frederick M. Hart Chair in Consumer and Clinical Law is an excellent representation of what UNM law school alumni and members of our legal community can accomplish together toward the betterment of New Mexico's only law school," says Hannah Farrington, senior director of development. "We are all proud of this meaningful gift and its ability to honor Professor Hart in this way."
The law school is undertaking the additional fundraising necessary to fully fund a $1.5 million endowed chair. Once the chair is endowed, the position can be filled.
"The law school is grateful for the collegial actions of the parties in this case and that they thought of the law school when considering a recipient for the funds," says Dean Kevin Washburn. "This chair will increase educational opportunities for our students."