Utton Center Releases Water Matters! 2012
January 27, 2012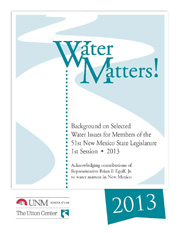 The 2012 edition of Water Matters!,  a guide to New Mexico's water issues published annually by the Utton Transboundary Resources Center, has been distributed to New Mexico legislators. In an effort to conserve money and natural resources, this year's volume was distributed online, with highlights distributed to each lawmaker in an eight-page brochure.
This year's compilation includes eight article updates, along with a companion publication that provides strategies for improving land and water management entitled, Land and Water: Making the Connection.
In every issue, Water Matters! honors a legislator who has helped advance understanding of New Mexico's surface and groundwater. This year, that honor went to Rep. Roger James Madalena, a leader in water issues at both the Roundhouse and his home community of Jemez Pueblo.
"Like all good encyclopedias, Water Matters! continues to grow. This year the guide approaches 200 pages," said UNM Law Professor Denise Fort, who is also director of the Utton Center. "The Utton Center is proud to contribute to our increasing understanding and better management of New Mexico's water resources."