Indian Law Program Continues to Break New Ground
January 1, 2012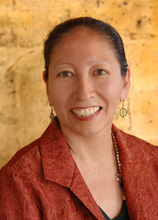 The University of New Mexico's Indian Law Program has been renamed the Law and Indigenous Peoples Program and Professor Christine Zuni Cruz (`82) has been appointed director of the program. The program's new title reflects a renewed and deepened commitment to the study of Indian law, in which the UNM School of Law has been a national leader since first introducing Indian law courses to its curriculum in the mid-1960s.
As part of the restructuring, Zuni Cruz, who joined the UNM law faculty in 1993 to establish the Southwest Indian Law Clinic, will also become Senior Adviser to the Office of the Dean and Faculty for Law and Indigenous Peoples Issues. This new position will allow for a greater degree of interaction, communication and consultation between the school's administration and its Indian law program.
"In general, this institutional change supports meaningful consultation, prior and informed consent of indigenous constituencies, along with cooperation among the faculty, staff and students in the Law and Indigenous Peoples Program, the law school administration and the university," said Zuni Cruz. "I will work closely with the administration in the hiring of adjunct faculty, on the Indian law curriculum and program finances, along with continuing to teach and serve as editor-in-chief of the Tribal Law Journal."
Since the Special Scholarship Program in Law for Native American Students (now the Pre-Law Summer Institute) was established in 1967, the school has been a trailblazer in the academic field of Indian law. What followed were the Indian Law Certificate Program, the Southwest Indian Law Clinic and the Tribal Law Journal, along with a steadily increasing number of Native American law students and faculty.
Now, with four tenured members of the Indian law faculty, all Native Americans; a professor of law librarianship, a fifth faculty member soon to be hired, one emeritus professor and an impressive roster of adjunct and visiting professor, the school boasts the highest percentage of Native faculty of any law school in the country. That coupled with Native Americans making up a solid 10 percent of the student body, Zuni Cruz sees a critical mass that positions the school to broaden its course offerings and deepen relationships with tribes.
The UNM School of Law already is one of only a few law schools that offers a broad Indian law curriculum; students can study federal Indian law, tribal law and international law. Most schools concentrate on only one area of Indian law, Zuni Cruz said.
"For years, we have been educating students, Natives and non-Natives alike, who have gone on to serve as tribal judges, in-house tribal counsel, who work with Native people and as prosecutors and public defenders, often immediately after graduation," she said. "Now, we can concentrate even more on nation building and partnering with tribes to determine their needs."
The institutional support of the UNM School of Law for creating such an integral position in the administration is unprecedented nationally, Zuni Cruz added. "Dean Kevin Washburn and his administrative team are to be commended for their vision in employing critical principles of consultation, consent and collaboration in building a program for the legal education of indigenous peoples and the training of lawyers to work with indigenous nations. I look forward to the innovations that will result," she said.
"We all agree that the greatest strength of our program is our diverse student body," said Washburn, who is also a member of the Indian law faculty. "Members of the Indian law faculty and I worked to create this tremendous step forward in the leadership of our program because we are committed to advancing our ability to serve our wonderful students to further their success."