UNM Team Impresses Judges at Williams Institute Moot Court
March 23, 2012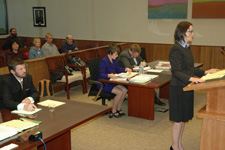 The team of Tyler McCormick (`13), Jessie Miles, (`13), Aja Oishi (`13) and Brian Parrish (`13) represented the University of New Mexico School of Law at the 2011 National Sexual Orientation Law Moot Court Competition in early March. They were among 38 teams to compete in the event sponsored by the Williams Institute at the University of California at Los Angeles School of Law.
"Although they did not advance, they argued really well, and their judges singled each of them out for particular praise as to parts of their arguments," said Professor Steven Homer, the team's coach.
By the time the competition was over, the UNM team had argued in front of 12 sitting judges, from state district court to federal court, as well as members of the New Mexico Court of Appeals and the New Mexico Supreme Court, providing them a wealth of courtroom experience. The students argued their final dress rehearsal before Justice Edward Chavez (`81) and Justice Charles Daniels (`69), both of the New Mexico Supreme Court, and Judge Linda Vanzi (`95) of the New Mexico Court of Appeals.
The Williams Institute competition is the only national competition dedicated exclusively to the areas of sexual orientation and gender identity law.