Utton Center Organizes Climate Change Workshop
June 1, 2012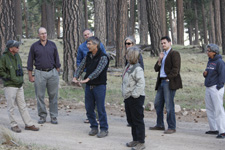 A select group of interdisciplinary experts came together to discuss the effects of climate change in the Southwest at a May workshop organized by the Utton Transboundary Resources Center.
Based on current models, the Southwest is expected to experience the strongest signals of climate change of any region in the continental United States. To look into the environmental effects of this, Professor Denise Fort, director of the Utton Center, received a grant from the National Science Foundation's Experimental Program to Stimulate Competitive Research.
She brought together scholars, nongovernment organization representative, governmental participants and recent UNM law graduates Jeremy Oat (`12) and Sharon Wirth (`12) at the Science and Education Center at the Valles Caldera in the Jemez Mountains. Each participant brought to the discussion a background and expertise different from anyone else in attendance. They discussed forest management, land management, agriculture and water policy.
The next step is for the group to craft a white paper to be submitted to the National Science Foundation along with other national scientific publications.
"This was a very exciting and productive workshop and the resulting article will certainly provide good information for addressing how to manage resources as climate change continues to affect the world," said Fort. "The Utton Center will take the lead in developing and disseminating further research on the topic."