Professor Sedillo Lopez Featured at AALS Clinical Workshop
June 28, 2012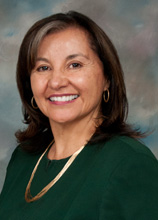 Antoinette Sedillo Lopez was featured during the 2012 Workshop for New Clinical Law School Teachers, organized by the Association of American Law Schools, in Washington, D.C.
She, along with two other law professors, presented a luncheon role-play program that explored the possibilities, opportunities and challenges associated with encouraging collaboration and integration between clinical and non-clinical law faculty.
Sedillo Lopez also co-presented a session titled, Navigating the Academy, in which she and another law professor addressed employment. They helped clinicians think about strategies to develop working relationships within the clinical law academy and the use of internal and external mentors.
The annual June workshop offers new law faculty an introduction to clinical teaching, and to the challenges of balancing the various roles that clinical teachers are expected to perform.