Professor Sergio Pareja Designs Course During Year in Spain
June 4, 2012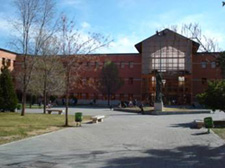 Professor Sergio Pareja has always felt comfortable with his command of the Spanish language, until he stood in front of a classroom of students at the Universidad Rey Juan Carlos (URJC) in Madrid, where he spent the past year as a visiting professor.
During the fall semester, he built relationships with faculty members and presented guest lectures to Spanish law students on United States law topics, mostly focusing on legal history and administrative law.
"These were very large lecture classes, and my guest lectures were always in Spanish," he said. "Although I speak Spanish well, I found teaching law in Spanish to be quite a challenge, and I spent hours and hours preparing to guest lecture."
During the spring semester, in addition to guest lecturing, he designed and taught his own seminar entitled, Overview of U.S. Law. Pareja prepared his own class materials for the seminar, which covered topics typically taught during the first year of law school in the United States.  Topics included everything from common law, constitutional law, contracts, torts, taxation and wills and trusts.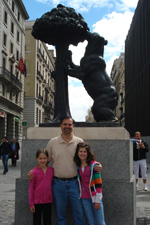 Although he officially taught this course in English, at the beginning of every class he presented a review of each previous class lesson in Spanish. He wrote the exam in English, but students could write their answers in either English or Spanish or a combination of the two. Seventeen students enrolled in the seminar, which also was popular among faculty members. Two professors attended nearly every class and others sat in to learn about subjects in which they were interested.
Pareja was invited in connection with a student-faculty exchange agreement between the University of New Mexico and URJC. While he was there, he worked on a renewal agreement between the two universities.
During his sabbatical year, he also completed the fourth edition of Federal Income Taxation of Business Enterprises: Cases, Statutes, Rulings, along with an accompanying teacher's manual. He is one of three authors of the casebook.
Pareja was joined in Spain by his wife, Mary, and their two daughters, who attended regular Spanish schools. They became accomplished sightseers, spending many weekends and school breaks exploring Europe, even traveling to Morocco.