Professors Pursue Interests Across Borders
July 18, 2012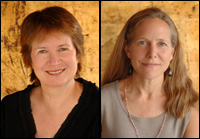 Professor Denise Fort spent three days in late June at a workshop in Sydney, Australia. The discussions centered on innovations in managing groundwater and the relationship between ground and surface water.
"Australia provides great examples of how groundwater resources can be better managed to reduce the effects on surface waters and to reduce the adverse ecological effects of groundwater pumping," said Fort.
The workshop was part of an ongoing collaboration between the University of Sydney's United States Studies Centre and the Water in the West program at Stanford University's Woods Institute.
Professor Jennifer Moore traveled to Mexico City in July with Peace Brigades International, an organization that works with human rights defenders in Mexico, Guatemala, Colombia and Nepal. During her visit, she learned about threats faced by human rights workers in Mexico.
Moore is a member of the National Lawyers Committee for Human Rights (NLCHR), a network of lawyers and law professors who support the work of the peace brigade. In Mexico, she was part of a NLCHR delegation that analyzed the human rights situation in Oaxaca and at the federal level, in order to evaluate access to justice as well as the ability of lawyers and defenders of human rights to freely exercise their vocation.