Professor Barbara Bergman to Serve as Interim Dean
October 8, 2012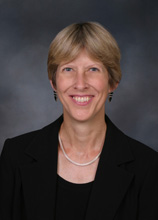 Professor Barbara Bergman, associate dean for academic affairs, has been appointed interim dean at the University of New Mexico School of Law. UNM Provost Chaouki T Abdallah made the announcement Oct. 8th following consideration of significant input by law school faculty, students, alumni and friends, and law school staff. Bergman will serve through the remainder of the 2012-13 academic year, until a new dean is appointed following a national search.
Bergman joined the UNM law faculty in 1987. She focuses her teaching on criminal law and procedure, but once a year, she leads students through an intense six-credit hour Evidence and Trial Practice course. Most recently, Dean Bergman worked tirelessly to establish exchange programs with law schools in the Washington, D.C. area, and later successfully launched the DC Semester Program, Bergman has lectured and published extensively, including serving as editor of the Fifth Edition of the D.C. Criminal Jury Instructions. She also is the co-author of Wharton's Criminal Evidence, 15th edition, Wharton's Criminal Procedure, 14th edition, and The EveryTrial Criminal Defense Resource Book.
She is a past president of the National Association of Criminal Defense Lawyers and continues to serve as a co-chair of the NACDL Amicus Committee. She currently serves on the Board of Trustees of the National Institute for Trial Advocacy and the Board of Directors for PB&J Family Services. 
In 2001, Bergman received the Robert C. Heeney Award, the highest honor given by the National Association of Criminal Defense Lawyers. In 2010, the Stetson College of Law awarded her a Lifetime Achievement Award for the Teaching of Trial Advocacy. In September 2012, Dean Bergman was awarded the Pamela Minzner Chair in Professionalism.