Professor David Stout Brings Career Expertise to Classroom
October 8, 2012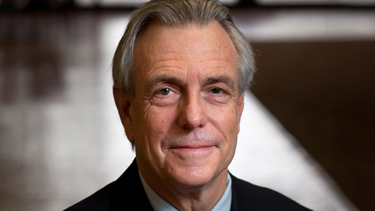 David Stout
(`82) had just earned a master's degree in history from the University of London and was looking forward to becoming a history professor when the uncertainty of life showed up. His father had been diagnosed with cancer and he wanted to return to his hometown of Albuquerque to help with his care.
Once he was back, Stout began rethinking his life plan.
"I wanted control over what I did and where I lived, and a career in academia had seemed like the best choice," he said. "But law had always been in the back of my mind and I thought Albuquerque would be a good place to raise children."
Stout applied only to the University of New Mexico School of Law, where he was accepted. In the fall 2012, after practicing for 28 years, he returned there to join the faculty as a lecturer III in the school's Legal Analysis and Communication Program, ready for the academic life he first envisioned many years ago.
Making a difference
After earning his J.D., Stout clerked for U.S. District Judge Santiago Campos (`53) and then moved to San Francisco. For the next three years, he taught legal writing and also worked for a Bay Area law firm. As much as he loved the Bay Area, he returned home in 1987 and shortly thereafter joined Bill Carpenter (`66) and Joe Goldberg, his former law professor, in practice.
For the next 25 years, Stout was a contributing member of a firm that included at various times Daymon Ely and New Mexico Supreme Court Justice Edward Chavez ('81), focusing mostly on personal injury and insurance-related cases. He sued government entities and insurance companies that denied benefits on a broad spectrum of areas, from products liability to toxic exposure. Clients came from across New Mexico, often with difficult complex cases.
"I liked helping people," he said. "These people came to us in need and it was rewarding to make a difference for our clients."
Stout also enjoyed continuing his education under the tutelage of Carpenter, whom he considered one of the state's best lawyers and a wonderful mentor. He enjoyed the camaraderie of collaborating with other lawyers on cases, either serving as a resource for them, or seeking out their expertise. "We never charged each other for helping out," he said. "I felt we owed it to each other to help out in whatever way we could." 
One highlight was when he participated with a small group of lawyers in a four-year effort to obtain Medicaid funding for women to obtain medically necessary abortions. "We were able to establish that if men could get vasectomies with Medicaid funding, under the Equal Rights Amendment women should be able to receive abortions," he said.
Along the way, Stout built his own reputation as one of the state's most highly respected lawyers.
A good resource
As much as he enjoyed his law practice, Stout retained his interest in teaching. In the early 1990s, he joined Pat Stelzner (`83) to teach Street Law, a course in which UNM law students taught a legal component in high school civics classes across Albuquerque.
Then, in the early 2000s, he began teaching as an adjunct professor at the UNM School of Law. He co-taught insurance law and ethics with Maureen Sanders (`79) and then taught ethics on his own before joining the faculty full time in 2012.    
"I want to be the best teacher I possibly can be and be a good resource to students," he said. "My whole professional life was in this community and feel like I could offer students a window into a part of the legal community."
Stout has been on the Board of Directors of the New Mexico Trial Lawyers Association since 1991. He has served in a variety of roles, including president and editor-in-chief of the association's newsletter. He managed the association's CLE program and has always made himself available to working with anyone who is interested in learning about the law.
He also is active in the Lawyer Support Group, which makes available recovery resources for lawyers with problems ranging from addiction to depression.
When he's not working Stout enjoys playing tennis, hiking, backpacking and baking cookies. He and his wife, Mary, have five adult daughters between them in their blended family. Stout's daughter, Kelly, was a 2009 graduate of the UNM School of Law.