UNM Law Not for Profit Art Gallery in the News and On Channel 27 on Monday, 3/31/14
March 27, 2014
UNM School of Law Professor Sherri Burr will discuss the University of New Mexico School of Law Not for Profit Art Gallery on ARTS TALK, at 7:00 pm Monday, 3/31/14 on Channel 27 in Albuquerque.
The Art Gallery has received media attention recently for the quality of work shown and for the impact of art on viewers.
On March 25, the UNM Law Not for Profit Art Gallery was featured in the Albuquerque Journal by Staff Writer Mike Bush titled, "Art at UNM Law School". Professor Sherri Burr, who chairs the Law School's Art Committee, is quoted sharing her enthusiasm for the gallery and discussing studies that show art provides intellectual stimulation. The article includes interviews with 3 artists whose work is currently on view in the gallery.
Professor Burr was also interviewed in a blog by Teri Hillyard about National Federation of Press Women members called "Talking with Teri."
As a result of the Albuquerque Journal story, the Art Director at the Menaul School, Cindy Crockett, called Burr and invited her to speak to the Menaul School about why art matters. Burr invited two members of the Art Committee, Robert Flinkman and Jonathan Lee, to join her on Tuesday, April 8th, at 10:00 a.m. They will discuss the creation of the Law School Art Gallery and its impact on the law school on those who work and study there.
Upcoming Exhibition – Student Artists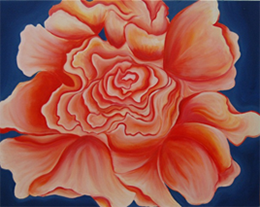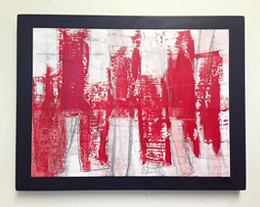 The UNM Law Not for Profit Art Gallery will host an exhibition by UNM students tentatively scheduled from Tuesday, April 22, 2014 to September 16, 2014.
Seven student artists were selected for the exhibit. Two of the pieces are from Christopher Allen Dodd, a second year law student, and Lauren Marek, a biochemistry major.