Financial Guide by UNM School of Law Professor Sherri Burr Wins Best Business Book Award
November 25, 2014

UNM School of Law Regents Professor Sherri Burr has won the 2014 New Mexico-Arizona Book Award in the Business Book category for A Short & Happy Guide to Financial Well-Being. The awards are presented by the New Mexico Book Co-op, a collective of over 1400 publishers and authors, recognizing the best works from New Mexico and Arizona.
A Short & Happy Guide to Financial Well-Being is a management manual for those seeking to thrive during healthy and weak economic times. It provides concrete steps to accomplish and secure financial well-being and guides readers through strategies for obtaining financial stability and success.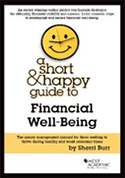 "I'm absolutely thrilled to have received this award," says Burr. "I drafted various chapters over a seven-year period. It's wonderful that this diligence has paid off in a book that I hope will help many people with their finances for years to come."
Burr teaches intellectual property law, art law, entertainment law, wills and trust, and international law. She has written twenty books and numerous scholarly articles in the area of intellectual property, art law, and international law that have been published in journals in the United States, Spain, Japan, and the United Kingdom.
A Short & Happy Guide to Financial Well-Being is available on Amazon: http://www.amazon.com/Short-Happy-Guide-Financial-Well-Being/dp/1628100397