Emeritus Professor Parnall Returns to Laos on Assignment for the United Nations Development Programme
November 24, 2014

Emeritus Professor Ted Parnall (`67) has been trotting the globe for his entire legal career, working on law development and legal education in developing countries.
His first assignment in The Lao Peoples Democratic Republic ("Laos") was in 1991, when he stepped down from being Dean of UNM School of Law to be the Resident Legal Advisor of Harvard Law School's eighteen month law development project in that country.
Harvard had a contract with the World Bank, and Parnall took his family there for 18 months. His wife Kathy, and sons Bert, David and Charles (all three of who are now lawyers, and two of whom—Bert and Charles—are UNM grads) all spent a significant amount of time in the country.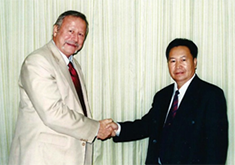 Parnall says it was one of the most productive and satisfying assignments he has had. "I and a group of well-known legal scholars (including the then Vice Dean of Harvard Law School, David Smith, Phillip Wellons, of the Harvard Program on International Financial Systems and Professors Jerry Cohen, Hal Scott, Jes Salacuse and several others) worked with the very small number of Lao law-trained people, introducing concepts essential to establishing a rule of law state," says Parnall.
After Laos, Parnall continued to work in the law development field, with assignments in Vietnam, China, Indonesia, Afghanistan and elsewhere. "It was Laos and Vietnam, however, that I think we made the most important contribution," he says.
Parnall has been back to Laos several times during the past 20 years, usually on assignments for the United Nations Development Programme (UNDP). "For example, I did a short assignment for UNDP and the Lao National Assembly in 2006, and worked with UNDP and the Lao Ministry of Justice in the development of a Legal Sector Master Plan (LSMP) which was adopted in 2009," says Parnall.
At present, he is in the middle of a UNDP project that has the objective of strengthening the written legal framework of Lao laws. "I recently spent several weeks in Vientiane interviewing various officials who are involved in the law-making process and prepared a report that establishes a baseline so that future progress can be more easily measured," says Parnall. "I am also working on a Law Drafting Guide that may be used by law-makers at various levels." He expects to complete his assignment by January 2015.
The Baseline Report is intended to establish a realistic baseline for the existing process of drafting, reviewing and promulgating laws and regulations and other normative legal documents. By knowing exactly how laws and other regulations now come into force, it will be possible to better identify the strengths and weaknesses of the process in order to make any necessary improvements. Following the information gained in the preparation of the report, it will then also be possible to draft and finalize the law/decree drafting manual that can be a practical and realistic guide future law makers at all levels.
The work is being done at this time at least in part because Laos took a very significant step in clarifying its legal framework by adopting a Law on Legislation (known as the "Law on Laws") in 2012. This was followed by the country's joining the World Trade Organization in 2013. This, together with its joining of ASEAN in 1997, as well as the planned accession into the ASEAN Economic Community ("AEC") in 2015, reflects the country's movement toward governance based upon a rule-based order, with an increased willingness to engage in transparent decision-making in both its domestic affairs and its international relations.