Professor Alex Ritchie pays tribute to outgoing UNM regent Gene Gallegos
December 16, 2014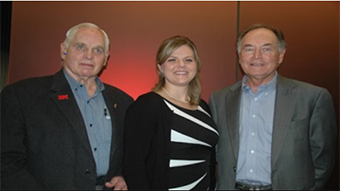 The University of New Mexico recently honored outgoing regents Gene Gallegos (`60), Jamie Koch and student regent Heidi Overton. Organized by Faculty Senate President Pamela V. Pyle, the event, Faculty Focus, offered a showcase of faculty giving brief presentations in their areas of expertise, interspersed with remarks on the contributions of Gallegos, Koch and Overton.
UNM School of Law Professor Alex Ritchie offered a few words on behalf of Gene Gallegos, the 1998 recipient of the School of Law Distinguished Achievement Award. Ritchie marveled at how Gallegos finds time to practice law on top of his duties as regent, "Since graduating from the law school in 1960, Gene has been a lawyer of record in many of the biggest oil and gas legal disputes in our state's history. In those cases, he often represents landowners, and in a dispute with an oil and gas company, this means representing the little guy."

Gallegos and his wife Felice, also a graduate of the UNM School of Law, have provided the law school with financial support, "including an endowed scholarship in honor of Gene's father, Judge J.V. Gallegos," Ritchie said, adding that he is a frequent guest lecturer, sharing his expertise on landowner royalty litigation and oil and gas law.
Ritchie's faculty line is made possible in large part by an endowment created for a curriculum in oil and gas law. In addition to his financial support of the Law School, Gallegos has provided guidance for the Law School's oil and gas offerings. UNM is now one of only a handful of law schools in the nation that employs a full-time tenure or tenure track oil and gas law professor.