Professor Jim Ellis receives advocacy award
April 30, 2015 - Tamara Williams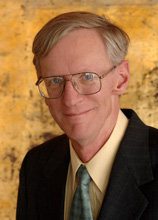 Distinguished Professor James W. Ellis received the 2014 Advocacy Matters! Award from The Arc, a national organization that promotes and protects people with intellectual and developmental disabilities (I/DD). The award was given at the 2014 National Convention in New Orleans in October.
The Advocacy Matters! Award recognizes a significant advocacy victory in the past year that improved the lives of people with I/DD. The Arc awards website states:
James Ellis is a dedicated advocate for individuals with disabilities in the civil and criminal justice system. For more than 20 years he has worked with The Arc's Legal Advocacy Committee, supporting their efforts. During his career he has filed briefs in 18 cases in the U.S. Supreme Court. In 2002, he argued Atkins v. Virginia, in which the high court held that the execution of individuals with intellectual disability (ID) violates the Eighth Amendment's prohibition on cruel and unusual punishment.
This year, Ellis played an instrumental role in Hall v. Florida, a death penalty case concerning the definition of ID that Florida uses in deciding whether an individual is protected by the Supreme Court's decision in Atkins v. Virginia. The Supreme Court ruled in favor of Freddie Lee Hall, reaffirming its commitment to ensuring justice for individuals with ID. This important clarification of Atkins v. Virginia will serve as a tool to ensure justice for individuals with ID who face the death penalty in states across the country.