2015 Simms Lecture Focuses on Ethics, National Security and Law
April 9, 2015 - Tamara Williams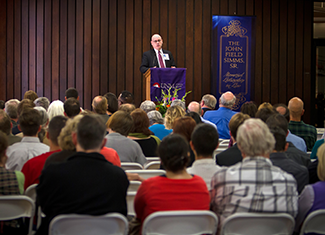 Jess Bravin, Wall Street Journal Supreme Court correspondent and author, presented the 2015 John Field Simms, Sr. Memorial Lectureship in Law on April 2 in the Forum at the UNM School of Law.
Approximately 250 people attended the talk, comprised primarily of local attorneys, judges and the UNM community, including law school faculty, staff and students.
Rough Justice
Bravin's topic, "The Terror Courts: Rough Justice at Guantanamo Bay," is also the title of his latest book.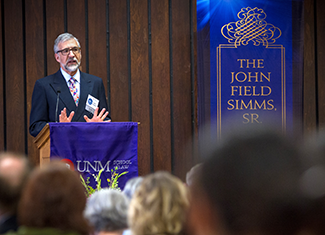 He introduced the talk by recounting his experience on September 12, 2001 in New York City. The collapse of the twin towers of the World Trade Center had destroyed the World Financial Center, home of the Wall Street Journal, and Bravin went to the site to see the devastation firsthand. As he walked around the moonscape that resulted, he became more interested in how the legal system would respond. Eventually Bravin volunteered to cover the military tribunals for the Journal, which he described in his talk.
Security Trends in the Next Decade
The lecture was held in conjunction with the UNM National Security Studies Program's annual symposium, which focused on "Security Trends in the Next Decade: Challenges, Issues, and Opportunities."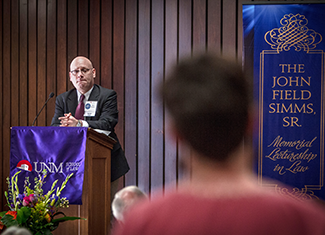 Law School events included presentations by UNM Law School alumni who represented detainees in Guantanamo; a panel of UNM law students who participated as legal observers at the military commissions; and participation in the panel "National Security Legal & Policy Dilemmas."
Media Coverage
The event garnered coverage from the local media, including articles in the local newspapers:
"9/11 tribunals were unprecedented," by Mike Bush, staff reporter at the Albuquerque Journal: http://www.abqjournal.com/564725/news/tribunals-unprecedented.html
"Law school hears Gitmo journalist," by Robert Salas, reporter for the Daily Lobo: http://www.dailylobo.com/article/2015/04/4-3-gitmo-lecture
60th Anniversary of the Simms Lecture
The evening marked the 60th anniversary of the endowed lecture that honors the memory of highly respected trial lawyer John F. Simms, Sr. who had served on the New Mexico Supreme Court and as a University of New Mexico Regent.
Past Simms Lecturers have included justices of the United States Supreme Court, presidents of universities, law deans and professors, high-ranking government officials, and United States Court of Appeals judges.
Photos by Mark Holm