Hilary Tompkins, Solicitor of the Department of Interior, Visits UNM Law School
April 20, 2015 - Tamara Williams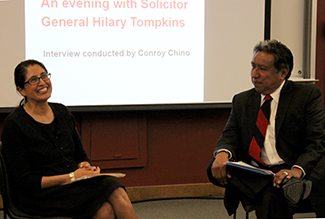 Hilary Tompkins, Solicitor of the Department of Interior, visited the UNM School of Law on April 6 and 7, 2015.
She was invited by the Law and Indigenous Peoples Program to return to the Law school, where she taught as an adjunct professor before being appointed Solicitor.
Tompkins is responsible for direction and supervision of all of the legal work of the Department of the Interior. In this position, she oversees legal issues of the DOI relating to land, water, resources, and power throughout the United States.
Professor Barbara Creel, director of the Southwest Indian Law Clinic, coordinated Tompkin's visit and Chino's interview. "The LIPP was happy to host Solicitor Tompkins at the UNM School of Law," said Creel. "She was entertaining, and illuminating, and we learned so much from her. She was very generous with her time and the students, faculty and the community are so fortunate to have such a close audience with her."
Meeting with Students
Tompkins met with students for a lunch and learn on one day and met with high school students from the Native American Community Academy (NACA) the next day.
Tompkins spoke of her first month on the job, being on the front lines with the BP Oil disaster and the Cobell Settlement, a class-action law suit against the United States for mismanagement of Indian trust monies.
In addition to her personal life and career trajectory, Solicitor Tompkins answered questions on subjects such as fracking, the Endangered Species Act, the role of the Department of Interior and the relationship with the Department of Justice. Those in attendance included, federal state and Tribal leaders.
Interview with Conroy Chino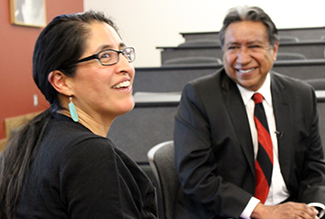 On Monday afternoon, the public was invited to an interview conducted by Conroy Chino, a Native American political and strategic consultant and former journalist, who interviewed Tompkins.
Chino asked Tompkins about her life and experience as the top attorney and head of all legal affairs in the Department of Interior and their impact on Indians and Indian Country.
A reception followed the interview, when tribal leaders, Law School students and faculty, and members of the legal community had an additional opportunity to visit with Tompkins.