SILC celebrates successful Indian Estate Planning Clinic
May 7, 2015 - Miriam Knof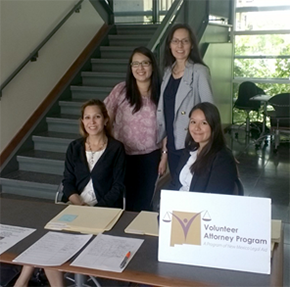 The Southwest Indian Law Clinic (SILC) students and faculty held a successful Indian Estate Planning Clinic on April 25, 2015 at the UNM Law School. Visiting Professor Scott Taylor supervised SILC students as they assisted local members of the bar in delivering important legal services.
"I became involved in this clinic as part of an Independent Research study under Professor Scott Taylor," says student Rachel Felix. "I was honored to be able to observe the hard work, processes and planning that went into SILC's first-ever Indian Wills and Estate Planning event. Volunteering during the event was one of the most rewarding experiences I've had in law school, and I hope that I can be a part of making this event happen again in the future."
Clients received wills and estate planning services at no cost in accordance with the American Indian Probate Reform Act (AIPRA) of 2004.
It was the first time such an event was offered at the UNM School of Law and resulted from a series of community outreach events planned by SILC.
" It was truly great to have tribe members show up for the very first Indian Will drafting event and have their wills drafted by our volunteer attorneys," says student Kate Worthington." Folks came from across the Four Corners region and New Mexico. It was a successful day and we're looking forward to more like it."
SILC students prepared and organized the event in collaboration with the bench and bar. Judge Shannon Bacon and representatives from the Statewide Pro Bono Programs for the NM State Bar Program including, Paul Haidle, Aja Brooks, along with numerous volunteer attorneys and law students provided their support.
"I am proud of the SILC model of community lawyering and our collaboration with the Office of Special Trustee and the State Bar to bring this much needed training and service to our state," says Director Barbara Creel. "I look forward to working with the community to continue to this project in the future."
SILC continues its community outreach by educating and training lawyers in the unique field of Indian law and estate planning. SILC is also working on a community lawyering project with the Office of the Special Trustee for American Indians ("OST").