UNM Business and Tax Clinic focuses on accelerating economic development
June 17, 2015 - Tamara Williams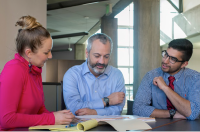 UNM School of Law Assistant Professor Serge Martinez is taking the lead role in expanding and revitalizing the transactional core of the Business and Tax Clinic, a section within the school's nationally-ranked Clinical Law Program.
In the Business and Tax Clinic, students represent small businesses and low-income individuals under close and supportive faculty supervision.
Martinez is revitalizing teaching in the clinic, incorporating cognitive science principles into the training.
He also plans to accelerate economic development in specific low-income communities throughout New Mexico by offering legal services to low-income individuals, micro-businesses, and small nonprofits.
Currently Martinez is networking with community organizations in various low-income communities throughout the state.
Tax Component of Business and Tax
The federal income tax controversy component of 'B&T' provides further experience in statutory interpretation, as well as further opportunity to sharpen interviewing, drafting, negotiation and litigation skills. Students work with clients from audit to U.S. Tax Court. Students experience transactional and tax practice in a vibrant, community-based context that contributes significantly to economic and community development in the region.
Recent Tax Clinic successes include the following:
A small business owner's tax deficiency was reduced from over $44,000 to just under $7,000.
Students helped a low-income client negotiate a settlement, reducing his proposed $9,000 tax deficiency to zero.
Students negotiated many offers in compromise with the IRS, some for as low as $1.
Our biggest dollar victory for 2014 came in U.S. Tax Court, where we sought innocent spouse relief for a low-income client whose spouse had embezzled over $75,000. Our client was relieved of the entire liability.