Public policy internships
August 11, 2015 - Jim Williams and Stevie Nichols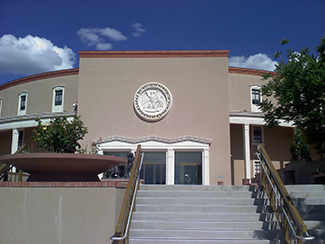 Three UNM Law students worked in public policy this summer, doing research, assisting in drafting legislation, and helping advocate for clients. They built a portfolio of hands-on experiences and prepared for their careers, with the help of the Office of Student & Career Services.
"These real world experiences are critical in helping our students identify career preferences and gain confidence in the professional competencies required to succeed in the legal profession," says Heather Harrigan, Assistant Dean for Student & Career Services.
"The ability to gain practical experience while in law school also increases our students' marketability and is a significant factor in the law school's strong employment outcomes."
Law students interested in careers in public policy will often find summer opportunities with public sector employers such as state or federal legislatures and policy-oriented non-profit organizations. Legislative assistants and staff attorneys for legislative committees help draft legislation, render legal advice regarding proposed legislation, and investigate matters of interest to the legislator or committee. The Legislative Council Service (LCS) is the drafting and legal research agency for the New Mexico Legislature.
Alternatively, policy-oriented organizations often conduct impact litigation ─ taking cases with the intention of creating legal policy and precedents that will affect large numbers of people on a particular issue. Often such offices supplement impact litigation with other forms of advocacy including lobbying, grassroots organizing, and community-based education. A local policy-oriented organization is the New Mexico Center on Law & Poverty, whose attorneys and staff work continuously to improve public policy that affects agricultural worker labor conditions.
Richelle Morin ('17) praises the value of such opportunities and the support given by the school. "The UNM School of Law has done a great job of preparing me for my summer fellowship with the New Mexico Center on Law and Poverty," says Morin. "Student & Career Services works hard to provide students these summer opportunities and have been great at explaining why these opportunities are so important. They have been so patient with me as my ideas about my career path have evolved over the course of the last year."
Read about their experiences here: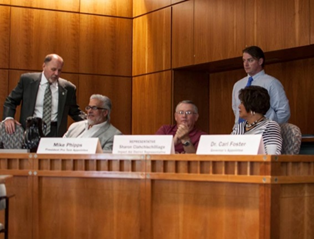 Summer activity: Legal intern at the Legislative Council Service, located in the State Capitol (the Roundhouse) in Santa Fe.
What projects are you working on? Most projects involved conducting research and writing legal memoranda, but I did get the opportunity to try drafting legislation, as well. While this would seem pretty standard, it was rewarding in the sense that the work we did wasn't just saving someone else some time, but actually helped shape or guide what might end up in a bill and possibly statute.
How will this help with your career goals? Having nearly completed the internship, I can say in retrospect that the most interesting aspect of it was becoming familiar with statute and statutory construction, an aspect of the law that has not been stressed in my legal education to date.
What's your background? I am originally from the East Coast, growing up just outside New York City. I moved to Santa Fe after graduating college (Wesleyan University) and joined the Santa Fe Fire Department in 2004. I was elected president of the local firefighters union (Santa Fe Firefighters Association), which eventually led to an interest in studying law.

Summer experience: Working with the New Mexico Center on Law and Poverty in Albuquerque
Why did you choose this experience? I was most interested in this opportunity because I came to law school with the vague idea that I wanted to help others.
A year ago I had no idea what that help would look like, but now, every day I learn about new concrete and practical ways being an attorney or even a law student can be helpful to others. This can mean something as simple as reaching out and reassuring a client that someone else cares about the issues affecting their life, to seeing how the Center has recently helped hundreds of New Mexico workers by successfully getting a Court of Appeals decision that the farm and ranch worker exclusion to the New Mexico Workers' Compensation Act was unconstitutional.
What projects are you working on? My main project with the Center consists of working with the labor team on the workers' compensation issue and generally trying to help the labor team as it works to make New Mexico a better place for low income workers who are otherwise overlooked. I have learned that persistence pays and details matter. This seems true for the big picture concerning the Center's specialty, impact litigation, and for the little stuff like working on a legal memorandum or maintaining files.
What's your background? I grew up on a commercial cattle ranch near San Simon, Arizona, a small farming/ranching community on the Arizona/New Mexico state line. I received my undergraduate degree at New Mexico State University in Las Cruces in Agricultural Extension/Education.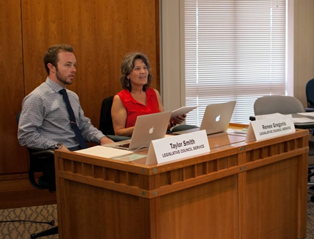 Summer activity: Working for the New Mexico State Legislative Council Service
What projects are you working on? The majority of my experience was drafting legal memoranda that answered legal questions for legislators. However I did work on drafting legislation, drafting letters to the Attorney General, and worked closely with legislators in interim committee meetings.
What have you learned from this experience so far? I learned a great deal about statutory construction. I learned the complexities of drafting legislation, learning about statutory law, and a great deal about how local governments work with state and federal government.
How has your time at UNM School of Law prepared you for this experience? I think that my schooling greatly prepared me for this experience. I think that Professor Minzer's criminal law class prepared me for statutory construction problems. I relied heavily on what I learned in Elements of Legal Argumentation for my writing assignments. But I think that George Bach's constitutional law class gave me the most skills needed to use in the internship. Professor Bach challenged me and required me to think through complex issues and the majority of my work in the Capitol has been centered around constitutional law questions.
How will this help with your career goals? I plan to work with legislation in the future. I have aspirations of becoming a drafter or a government relations specialist. This is right in line with what I want out of my career.
What's your background? I grew up in Los Lunas, New Mexico. I dropped out of high school at 16. I returned to school when I was 20 and attended UNM-eventually earning my degree in psychology. I have interests in civil rights, healthcare law, and state government.