Emeritus Professor Ted Parnall returns to Liberia as legal advisor
November 19, 2015 - Tamara Williams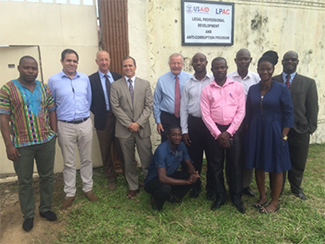 Forty-eight years after Emeritus Professor Theodore Parnall began his first assignment in Liberia, he returned there this year to start up a major U.S. Agency for International Development (USAID) law development effort.  
Parnall's first experience in Liberia began in January of 1967, shortly after taking his last exams at the UNM Law School, when he was recruited and supported by the Ford Foundation to teach at Liberia's only law school.
"Now I am back, at least for a while, and am pleased to find a few of the people I knew are among the leaders of Liberia's legal community," says Parnall.
Parnall is Chief of party for the Legal Professional Development and Anti-Corruption (LPAC) project, a very wide-reaching task force that makes up USAID and Liberia's primary formal justice sector program.
Its design addresses two fundamental challenges in Liberia's development as a rule-following state: (i) increasing the capacity of its institutions to produce a sufficient quality and number of judges, magistrates, prosecutors, public defenders, lawyers and other  law-trained actors to maintain an effective legal system , and (ii) reducing the corruption that undermines that system.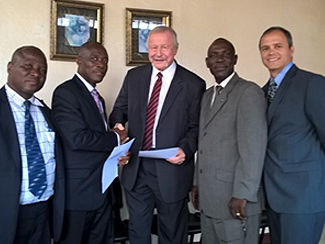 LPAC consists of two components to address those challenges:
The first component directs capacity building to the four key Liberian justice sector institutions, the Judicial Institute, the Louis Arthur Grimes Law School, the Liberian Legal Information Institute (Liberlii), and the Liberian National Bar Association, that educate, regulate and inform legal professionals. 
The second component supports the Liberian Anti-Corruption Commission (LACC) and associated Government of Liberia entities in their efforts to investigate, prosecute, and convict perpetrators of corruption related crimes, and to educate the public regarding the fight against corruption in Liberia.
"Even after the years of war and medical challenges, the friendly spirit of the Liberian people still manages to shine through," says Parnall.
In addition to working as a long-term resident legal advisor in Liberia, Parnall has worked in overseas posts in countries as diverse as Senegal, Ethiopia, Egypt, Tunisia, Laos, Indonesia, Vietnam, Madagascar the Kyrgyz Republic and Serbia/Montenegro.