Anonymous donor establishes scholarship to honor outstanding attorney Kendall O. Schlenker
November 6, 2015 - Tamara Williams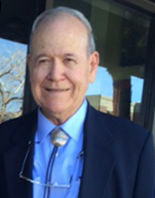 The Kendall O. Schlenker Endowed Scholarship in Law was established in 2014 by an anonymous donor to honor Mr. Schlenker, who is a 1957 graduate of the UNM School of Law. The scholarship is awarded to an outstanding current or incoming law student at UNM who is a New Mexico resident.
Schlenker practices in Albuquerque with Matthew Urrea, as Schlenker & Urrea, LLP. Their practice areas are taxation and trusts and estates.
Schlenker's greatest satisfaction during his practice of law came from participating in the evaluation and drafting of legislation required by the adoption of New Mexico's Equal Rights Amendment in 1972.
Between 1964 and 1972, he had participated in several unsuccessful attempts to get the New Mexico legislature to adopt legislation which would change the community property law to give the wife the power of testamentary disposition over her interest in the community property.
Anne K. Bingaman and John R. Cooney chaired the State Bar committee which was charged with determining the property laws requiring change, and then with drafting the proposed legislation needed to implement these changes. Schlenker was designated to be charge of the tax aspects. The legislation which was adopted is codified as the "Community Property Act of 1973" at Sections 40-3-6 through 40-3-17 NMSA 1978.
With his former law partner Jim Cooney, Schlenker also drafted and lobbied the enactment of legislation in 1969 which completed and implemented the "Professional Corporation Act." This act had been adopted in an abbreviated form in 1963. This revised legislation allowed professionals to incorporate and receive "employee" tax benefits and other benefits, including the adoption of pension and profit sharing plans.
Schlenker received the Outstanding Alumni Award from Eastern New Mexico University, where he received his B.A., in 1975. He has been listed in Best Lawyers in America©, beginning with the original edition in 1983 through the 2016 edition.