UNM Law shines at the AALS Clinical Conference
May 19, 2017 - Tamara Williams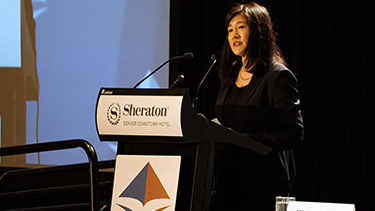 More than 650 legal educators attended the Association of American Law Schools 40th Annual Conference on Clinical Legal Education from May 6-9 in Denver, but one law school stood out.
From organizing the conference and being recognized during the opening plenary to speaking in workshop panels and presenting posters, faculty in the UNM Law School Clinical program were continually noticed and appreciated.
Last year, Professor Carol M. Suzuki was appointed as Chair of the Planning Committee. She previously served in this role for the 2008 Conference​. For months she worked on planning, logistics, and the scope of the conference and workshop. She also gave the Introduction and welcomed attendees to the conference on the opening day.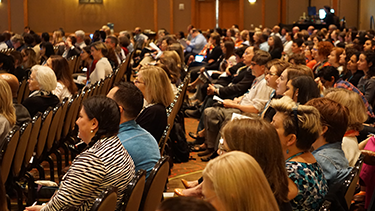 "The UNM School of Law's presence at the conference was impressive," said UNM Law School Dean Alfred Mathewson. "The poster presentations stood out, one on curricular design and one on improving outcomes for children in New Mexico. Videos from several schools were shown at the opening plenary, including ours on Moore v. Texas, which received a rousing applause. UNM was one of two schools with deans in attendance. Throughout the conference, I received a lot of positive feedback about our school. People were definitely taking notice of the UNM School of Law."
Mathewson said Suzuki did an excellent job in her remarks in the opening plenary. In her welcome address, Suzuki said the conference served as an "opportunity in Denver to regroup and refresh in our collective struggle to strategize how clinical education can further evolve and advance to better address student learning of adaptable skills in this job market and emerging client and community needs."
During his plenary presentation, University of San Francisco School of Law Bill O. Hing noted that he assigns Suzuki's counseling article "Unpacking Pandora's Box: Innovative Techniques for Effectively Counseling Asylum Applicants Suffering from Post-Traumatic Stress Disorder," to the students in his Immigration and Deportation Defense Clinic.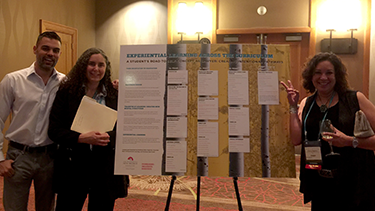 Suzuki said she was honored to have been selected to lead in the development of the conference. "The conference happened at a critical time for clinical law programs and the clients and communities they serve," she explained. "I appreciate the support of my UNM School of Law colleagues who presented at and attended the conference."
Professor Aliza Organick, Associate Dean of Experiential Learning, was on a workshop panel that examined "Cementing the Core of Clinical Programs" and what it means for law schools to cement their commitment to clinical education by identifying the core values and elements of clinical programs.
At the reception that evening, Organick joined Professors April Land and John Whitlow for a poster presentation on "Experiential Learning Across the Curriculum: A Student's Road to Self-Concept as Lawyer."
The poster explains that experiential learning at the UNM School of Law ensures that students have the opportunity to "act" in the role of the lawyer as early as possible in law school, beginning in Orientation and continuing into the first, second and third year.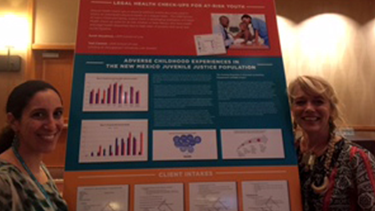 The UNM Law School's learning environment provides platforms and continued opportunities that allow students to map their curricular paths with deeper engagement and understanding of critical lawyering skills and values.
Mathewson said that attendees made favorable comments about how the law school is integrating doctrinal courses with experiential learning throughout the curriculum.
Visiting Professor Sarah Steadman and Professor Yael Cannon presented a poster on "Identifying Health Harming Legal Needs of At-Risk Youth: Legal Health Check Up Tools."
The poster described how the UNM School of Law's Child and Family Justice Clinic is developing analogous civil legal health check-up tools for at risk children in New Mexico who face health and legal health disparities due to high rates of poverty and racial and social injustice.