Former Dean and Emeritus Professor Ted Parnall Leads "Methods of Legal Analysis" Seminar
April 11, 2019 - Hannah Farrington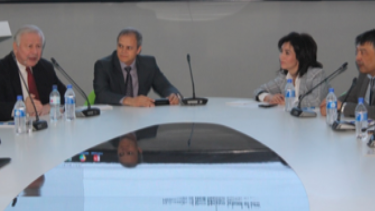 Former UNM Law Dean and Emeritus Professor Ted Parnall recently led a unique seminar as part of the USAID-funded Tetratech Judicial Reform in Uzbekistan (JRUP) Project. The "Methods of Legal Analysis" seminar, held at the University of World Economy and Diplomacy (UWED) offered an opportunity for teachers in Uzbekistan to familiarize themselves with the IRAC and FIRAC methods of analysis, and to explore how to apply these in practice. UWED is supervised by the Ministry of Foreign Affairs of the Republic of Uzbekistan.
Parnall subsequently made a visit to the Tashkent State University of Law (TSUL), supervised by the Ministry of Justice of Uzbekistan, in early March meetings with Deputy Rector Mansur Kamalov of TSUL and other representatives. During the meetings, Parnall participated in discussions relating to programmatic and curricular considerations affecting the TSUL Master's degree in law, including the development of Mock Trial and Legal Writing courses.
Professor Parnall said that he drew heavily not only on his own experiences over many year of working in numerous other countries, such as Indonesia, Egypt and China, but also on the focus the UNM School of Law has placed on similar programs. "There is a significant international trend to make legal education more practical and responsive to the economic and social needs of their communities, and it is encouraging to see the developments being undertaken by Uzbekistan's institutions", shared Parnall.
For more information on former UNM Law Dean and Emeritus Professor Ted Parnall, please click here. For more information on UWED click here.