Professor Sherri Burr Awarded 2021 Communicator of Achievement Award
April 21, 2021 - Jeff Vescovi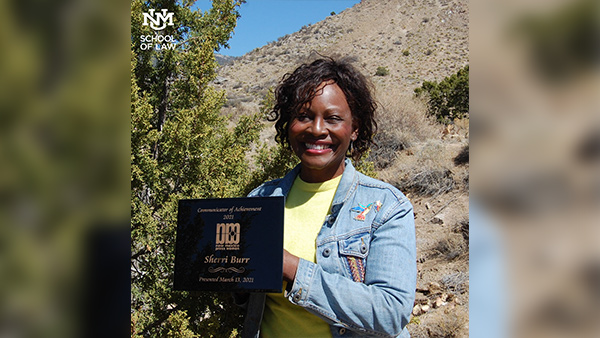 Professor Emerita Sherri Burr was recently awarded the New Mexico Press Women's 2021 Communicator of Achievement Award, the organization's highest honor. The award recognizes exceptional achievement in the field of communications, as well as service to the New Mexico Press Women (NMPW) and to the community. Professor Burr earned her award through her extraordinary leadership of NMPW through the challenges of the global pandemic. She retooled many of the typically in-person programs to function online, re-configured the budget to account for lost revenue, and bolstered fundraising efforts for the organization's journalism scholarships by organizing an online version of Giving Tuesday instead of a traditional silent-auction.

While she was leading NMPW, Professor Burr also updated two of four books published by West Academic. The latest editions were A Short & Happy Guide to Financial Well-Being, 2nd Edition, and Quick Review of International Law, 4th Edition.

Professor Burr was featured in several Black History Month presentations in February. She gave a guest lecture entitled, "Genealogical Research into America's Antebellum Past: The Challenges of Finding the Enslaved, the Free, and Enslavers" for the University of Houston Law Center's 2021 Black History Month Presentation. She was a guest on ¡Colores! A Production of NMPBS, where she discussed her book, Complicated Lives: Free Blacks in Virginia, 1619-1865. The book reveals the history of black individuals who were freed prior to the Civil War and dispels the common misconception that all Africans who arrived on the shores of America were slaves. Professor Burr was also featured as a guest on Cafecito Con Colón, a show hosted by New Mexico State Auditor and alumnus Brian Colón. Colón and Burr discussed the Amplification of Black Voices in 2021 and beyond.