UNM School of Law Border Justice Initiative CLEs Marks 300th Participant
August 1, 2021
The UNM School of Law's Border Justice Initiative recently marked its 300th Continuing Legal Education (CLE) participant. Launched in 2019, the Border Justice Initiative's CLE program was developed to provide immigration law education to law students and lawyers from any practice area. This program also invites community members to volunteer by providing various legal support services to individuals at the US-Mexico border.
Since its inception, the BJI's CLE program has delivered almost a dozen trainings ranging from Immigration 101 to more comprehensive or current topics such as the Central American Minors (CAM) program, a new program initiated by the Biden Administration. The CLE trainings are delivered by the UNM School of Law faculty, alumni, and other immigration experts and specialists.
"Immigration is a highly specialized and unique area of law, and there are relatively few attorneys in the state who practice in this area, even though the need for this type of representation is high, in New Mexico and elsewhere," said April Land, Professor of Law and Director of the Initiative. "When trainings shifted to online, we were able to include practitioners in other parts of the country seeking specialized immigration trainings."
The Border Justice Initiative's CLE program will continue in 2022 with a spring series including CAM updates, the Remain in Mexico program updates and specific litigation areas related to conditions of confinement and attorney access.
To learn more about the Border Justice Initiative or get in touch with the BJI team, email borderjustice@law.unm.edu. To view the full list of UNM CLEs visit here.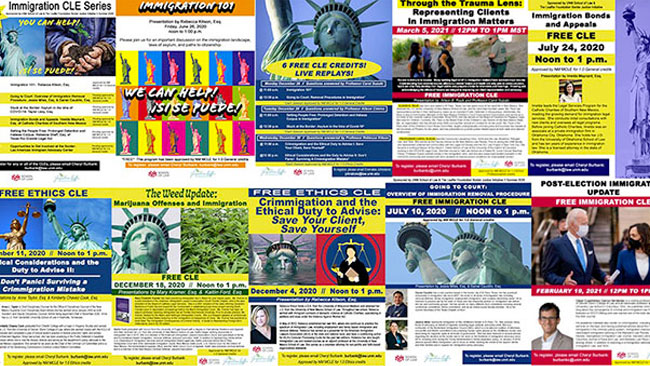 Flyers developed to raise awareness about the various Border Justice Initiative CLEs