Utton Center hosts Continuing Legal Education Workshop "Land Grants, Acequias and the Law"
September 16, 2021 - Rocky Mountain Mineral Law Foundation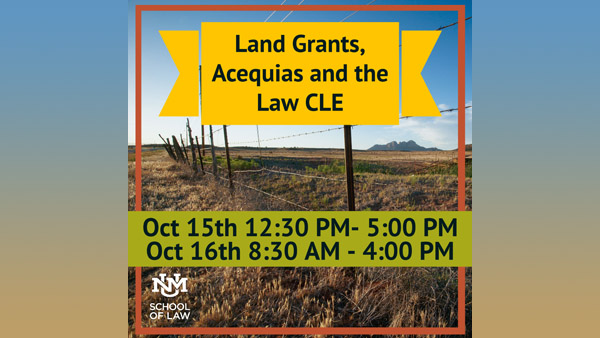 Friday, October 15th and Saturday, October 16th, 2021, at the Cañon de Carnué Land Grant Hall. 
Join experts in the field of land grant and acequia law to cover a variety of issues unique to these communities. This two-day event geared towards judges, attorneys, and students and is open to members of the public. All are welcome to attend one day or both days of the event; discounted pricing is offered for two-day attendance. This two-day program has been approved by MCLE for 7.5 General and 2.0 Ethics/Professionalism credits.
Please see the save the date flyer, the event detail sheet, and the agenda for more details. 

Please note we require participant proof of vaccination upon registration for both days. On the day(s) of the workshop, please bring your vaccination card, online record, or proof of exempt status. For New Mexico residents, you may visit: https://nmsiis.health.state.nm.us/webiznet_nm_public/Application/PublicPortal for access to your vaccination records. Face coverings are also required. We will provide face masks and hand sanitizer at the event. Space is limited to 75 attendees. 

If you would like to register, please click this link. If you have any trouble registering or have questions about this event, please contact Lauren Rust of the Utton Center at (301) 503-1365 or email rust@law.unm.edu