Child & Family Justice Clinic Partnered With TGRC To Offer Free Name Change Clinic
December 19, 2021 - Madison Spratto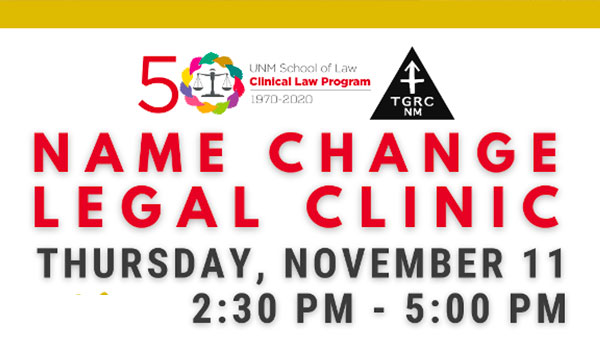 The Child & Family Justice Clinic offered a free legal clinic on November 11, 2021 at the Transgender Resource Center (TGRC) to assist with name change cases. Clinic Professor Sarah Steadman and five Clinic students — Huong Nguyen, Douglas Alsup, Billy Trabaudo, Bree Barnett and Annie Swift — aided approximately 25 trans and nonbinary individuals.
As part of the process, the students drafted a protective motion for pro se individuals to use in any New Mexico court. The motion asks the court to waive publication of the name change for safety reasons because publicizing the change could risk outing trans and nonbinary individuals and expose them to harm.
The TGRC reached out to Professor Steadman expressing the overwhelming number of people from all over New Mexico who have reached out to them with questions about name changes and how to protect themselves throughout the process. The students who volunteered expressed their desire to support TGRC and the people it serves.
"Our core mission of the Child & Family Justice Clinic is to serve our diverse marginalized community members, including our transgender and nonbinary community," Professor Steadman said.
The Clinic has been able to offer many free legal clinics in the past in collaboration with community partners, Bernalillo County, and others. Some of their work has included child safety legal planning for undocumented parents who are at risk of deportation and helping grandparents secure custody of their grandchildren they are raising.
"Clinic students always learn a lot about what it means to be a lawyer from these opportunities to utilize their legal skills in a new setting," Professor Steadman said. "It really means something when you are able to answer a legal question or provide legal support right there, in the moment, for someone who really needs that help."