UNM School of Law Emeriti Facilitate The Conversation
December 8, 2021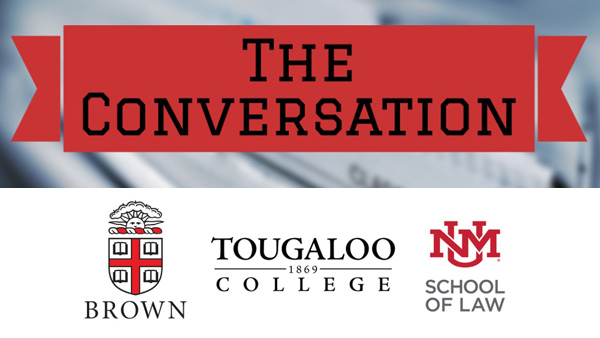 Brown University, Tougaloo College and the University of New Mexico School of Law partnered in June to host The Conversation, a three-week summer research dialogue among rising second-, third- and fourth-year undergraduates around issues of race, justice and the law as they have affected "involuntary Americans" (e.g., Indigenous peoples here before Columbus, Black people brought here enslaved, and Mexicans here before the Treaty of Guadalupe Hidalgo, and immigrants brought here as children). This unique pipeline program, perhaps the only one in the country with law professors providing guidance on undergraduate research, encouraged participants to consider career pathways in academia, law, and combinations thereof in hopes that they will, in the course of their careers, further a cross-cultural dialogue regarding the themes of race, place, history, economics, social justice, and the law. 
The Conversation was originally scheduled to take place in person in New Mexico in the summer of 2020. In response to safety measures as a result of COVID-19, The Conversation was redesigned as a virtual program offered in June 2021. Twelve students, four from each institution plus a student teaching fellow, interacted virtually through a Zoom platform for three hours each weekday. This initiative was conceived of and funded by a generous gift from attorney Michael Gross, who has a connection with each school, and his wife Andrea Gross.
Daily sessions included guest lecturers who provided background information, legal applications and potential research sources about race, justice and the law, and dialogue circle discussions to begin refining concepts related to their research and to develop a research prospectus for a paper to be completed after participation in the program. The sessions were facilitated by UNM School of Law Regents Emerita Professor Christine Zuni Cruz and Dean Emeritus and Emeritus Professor of Law Alfred Mathewson, who developed the pilot program curriculum in consultation with the planning committee. In addition to the daily sessions and shared readings, cohort members had weekly virtual field trips set in Mississippi, New England, and New Mexico. Guest lecturers and panelists included Professor Emerita Margaret Montoya, Associate Dean for Information Services and Library Director Michelle Rigual, Assistant Professor Veronica Gonzales-Zamora, Associate Professor Sonia Gipson Rankin, Professor Marc-Tizoc Gonzalez, and Associate Professor Vinay Harpalani from the UNM School of Law. Other guest lecturers included Assistant Professor Natasha Howard, UNM Geography Department and Africana Studies; Assistant Director Emma Petit, Learning Office; UNM School of Medicine, Dr. Daphne Chamberlain; Associate Provost and Professor of History and Director of Institute of Social Justice and Assistant Professor Julian Miller from Tougaloo College; and Elon Cook Lee, Brown University alum, Director of Interpretation and Education, National Trust for Historic Preservation.
The lectures covered online research, Casta paintings, economics of race and trade, history of place in New Mexico, Mississippi, and New England, social justice, and a race and the law roundtable. The virtual field trips were (1) Mundos de Mestizaje, National Hispanic Cultural Center; (2) Mississippi Civil Rights Museum and Museum of Mississippi History; (3) IAIA Museum of Contemporary Native Art Virtual Museum; (4) The Mashantucket Pequot Museum & Research Center Virtual Tour. Cohort members also participated in "The Conversation Partners," a weekly meeting with a different peer each week to encourage conversation outside of the formal dialogues. Each student successfully produced a research prospectus including a thesis, research plan, and bibliography.
Students were enthusiastic about the program. Hailey Shangin from Brown University asked, "Is this program going to continue? It was such a good experience for my academic and educational development." Janilyah Khadaran, a freshman at Tougaloo College said, "It really opened my eyes. The opportunity to hear others talk about their passion helped me find mine."  Quinn Gottlieb, a senior at UNM, said, "The experience I had in The Conversation was unlike any other in my undergraduate studies. Beyond learning about race, law, and injustice, we practiced our ability to listen with intention. . . We left with confidence in our voices."
It was no small feat for three institutions in different regions with different cultures to come together to collaborate and operate a pilot project. It took several individuals at all three institutions to plan and implement it. Representatives from each school and Mr. Gross began discussing the program in 2017 in Providence, Rhode Island. Subsequent meetings were held in Jackson, Mississippi and Albuquerque. Over the four-year period, representatives in the planning from each institution included: Brown University's Dr. Shontay Delalue, former Vice President for Institutional Equity and Diversity; Dr. Chloe Poston, former Assistant Vice President of Strategic Initiatives; and  Tiffany Enos, M.A., Director, Office of Inclusion and Campus Engagement, all of whom were within the Brown University Office of Inclusion and Diversity; Tougaloo College: Dr. Daphne Chamberlain, Associate Provost, Vice President for Academic Affairs and Associate Professor of History; and Dr. Whitney McDowell-Robinson, Vice President for Enrollment Management and Student Services; and University of New Mexico School of School of Law: former Professor Kip Bobroff, Regents Professor Emerita Christine Zuni Cruz and Dean Emeritus and Emeritus Professor of Law Alfred Dennis Mathewson, and Emeritus Professor Peter Winograd. 
The program would not have been successful without the efforts of Tiffany Enos, who coordinated the applications and selection process, developed and managed the Google Classroom, and managed student communications across the three campuses. Associate Professor Rankin, Dr. Chamberlain, Dr. McDowell-Robinson, and Dr. Poston, assisted with the selection process. Several participants expressed an interest in law school and Scott Cameron, then Interim Director of Admissions at the University of New Mexico School of Law, held an informational session after the conclusion of the program. Kudos are also due to the Brown University Office of Information Technology and the UNM College Enrichment Program.