New experiential course at UNM Law School creates effective advocates

FOR IMMEDIATE RELEASE
June 9, 2015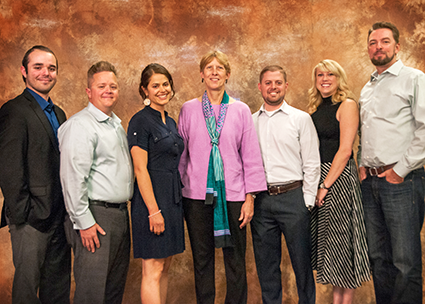 Albuquerque, NM – "An expert knows all the answers – if you ask the right questions." — Levi Strauss.
Students at the University of New Mexico School of Law learn how to ask the right questions of both consulting and testifying experts in a highly-interactive new course called Experts in Litigation.
Students participate in three hands-on experiences in depositions and in court, where they receive advice and pointers from judges and attorneys. Six writing assignments are real-life exercises from law office practice – ranging from a memo explaining what sort of expert is needed, to a Daubert motion or response, to jury instructions.
Former Assistant United States Attorney Mark T. Baker was one of the volunteers who evaluated students during their courtroom exercises. He says they are really lucky to have this opportunity in law school. "Normally, the first time you'd work with an expert witness is after you graduate," said Baker. "It could be years before you call an expert as a witness or cross-examine one in court. It's so much better to get the chance to do this in law school, where you aren't dealing with the pressures of a real case with real world consequences."
The class was co-developed and co-taught by Professor Barbara E. Bergman and UNM Law School alumna Cynthia Blackwell ('04), an attorney at Los Alamos National Laboratory, who adds expertise in science and technology as well as the law.
Bergman has taught at the law school since 1987 and has helped shape the school's practical lawyering curriculum. "The UNM Law School has focused on experiential learning for years," says Bergman. "Legal education around the country has now finally started to realize that the practical application of legal skills is critical in the education of our law students."
Bergman's strong expertise in criminal law includes practicing as a criminal defense lawyer with the Public Defender Service in Washington, D.C. She also worked on the defense team in the State of Oklahoma v. Terry Nichols, a state death penalty case.
She tapped into her network of nationally-recognized attorneys and the New Mexico Bench and Bar for guest speakers and participants to evaluate the mock trials and courtroom exercises.
The experts included clinical psychologists, fellows from the New Mexico Office of the Medical Investigator, experts from the state crime lab and Los Alamos National Laboratory, and a lab expert in forensics who worked on the Terry Nichols case.
"We are so fortunate here at UNM to be able to call upon the leading trial attorneys, experts, and judges throughout the state to help educate our students," says Bergman. "Over and over again they enthusiastically donate their time and expertise to prepare our students to be effective advocates for their clients."
Robert Johnston ('16) took the class and says, "Experts in Litigation has provided me with tools now that I would be lucky to get after four or more years in practice had I not taken the class. From Daubert hearings and motions to fine tuning the mechanics of working with an expert, this class has taught me a lot of valuable skills."
Civil trial attorney and UNM Law alumnus Steve Scholl ('89) teaches several classes at the Law School and spoke to the class on taking and defending depositions. "Law firms and agencies that hire UNM Law grads are getting new lawyers who are ready to hit the ground running in the areas where new lawyers are most valuable – preparing cases through well planned discovery, and preparing witnesses, especially experts, to testify."
About the University of New Mexico School of Law
The UNM School of Law offers the Juris Doctor (JD) program as well as certificates in Indian Law and in Natural Resources and Environmental Law. New Mexico's only law school offers a 9:1 student-to-faculty ratio and is known nationwide for Clinical Law Program. Frequently rated as one of the most popular and most diverse law schools in the country, the UNM Law School is a member of the Association of American Law Schools (AALS) and is approved by the American Bar Association (ABA).
###