Christine Zuni Cruz Shares Expertise in Hawaii
February 1, 2008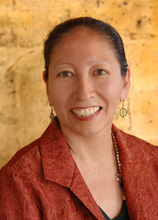 Professor Christine Zuni Cruz spent January at the University of Hawaii's William S. Richardson School of Law as the school's Visiting Wallace S. Fujiyama Professor. During her month in Hawaii, she taught law of indigenous peoples.
Zuni Cruz presented a public lecture on traditional and contemporary aspects of the internal law of tribes and the complex interrelationship between the two. During her lecture at the law school, she also discussed the tremendous influence exerted by outside forces on the internal law of indigenous peoples. She also was an invited guest on Hawaii Public Radio 's Think Tech show.
A member of Isleta Pueblo, Zuni Cruz is an associate justice on the Isleta Appellate Court and serves as editor-in-chief of the Tribal Law Journal at the UNM School of Law.