Professor Christine Zuni Cruz Presents at Tribal Law Symposium
February 1, 2009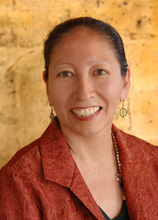 Professor Christine Zuni Cruz was among a handful of speakers invited to the 13th Annual Tribal Law and Government Center Conference at the University of Kansas School of Law. The title of this year's conference on Feb. 13 was "Innovations in Tribal Governance."
Zuni Cruz's talk was titled, "Indigenous Identity and the Lines of Tribe"
See article in Indian Country Today about Professor Zuni Cruz's talk.