10th Circuit Court Hears Cases at Law School
May 1, 2009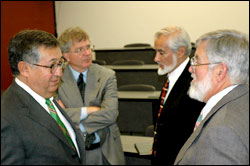 Three judges from the U.S. 10th Circuit Court of Appeals spent a day at the UNM School of Law in April, visiting with students, faculty and conducting oral arguments on six cases, all involving appeals from New Mexico. The judges were Judge William J. Holloway, Judge Carlos F. Lucero and Judge Michael W. McConnell.
The visit also reunited Judge Holloway and Professor Gloria Valencia-Weber, who was his chief judicial clerk from 1987-1989, when he served as chief judge. She worked on cases, administration of the 10th Circuit and orienting his new law clerks. Following her clerkship, she went into teaching at the University of Tulsa College of Law.
The 10th Circuit handles appeals from federal cases tried in New Mexico, Colorado, Utah, Wyoming, Kansas and Oklahoma. The court has headquarters in Denver, but periodically sits in other locations in the circuit.