New Scholarship Honors Peter Winograd's Career, Helps Keep Best and Brightest at UNM Law School
June 11, 2014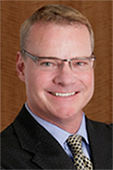 Eric Knapp ('98) has made a founding gift to establish the Peter A. Winograd Scholarship in Law, honoring Peter Winograd, who served as Associate Dean from 1976 to 2005 and has played an influential role in the development of legal education. The $5,000 scholarship will be awarded to an incoming, full-time first-year student who has demonstrated a propensity for giving back to his/her community, has made a positive impact on the lives of others, and is a highly qualified and competitive applicant for admission to the law school. Developed to help attract and keep the best and brightest law students at UNM, the scholarship will be awarded for each year a student recipient attends the School of Law.
Knapp graduated cum laude from the Law School and definitely falls into the "best and brightest" category. He served as managing editor of the law review, was a member of a first-place health law moot court team and second-place mock trial team, participated in the summer law clinic program, and externed for the Albuquerque District Attorney's Office. Currently he is a partner at Carroll Burdick & McDonough LLP, in San Francisco, focusing on consumer class action defense.
Knapp appreciates Winograd's influence in his life. "Dean Winograd was instrumental in my decision to attend the UNM School of Law, and I remain grateful to him for his support throughout my law school education and for staying in contact with me after I graduated," says Knapp, adding that he admires Winograd's long-standing contributions to the law school and his ongoing commitment to its mission.
Upon learning of the gift, Winograd said he was both taken aback and honored by Knapp's extraordinary generosity – so much so that he has added his own contribution to ensure that the scholarship will be endowed, continue to grow, and thus be available to future generations of law students.
For decades, Winograd has played an influential role in the development of legal education, holding leadership positions with the Association of American Law Schools, the American Bar Association, and the Law School Admission Council. From 1989 to 1991, he was the LSAC's President. He has chaired or been a member of about 30 ABA law school site evaluation teams across the country and has received the prestigious Robert J. Kutak Award, given annually by the ABA's Section of Legal Education and Admissions to the Bar to "an individual who has contributed significantly toward increased cooperation between legal education, the practicing bar, and the judiciary." From 2010 to 2013, Winograd was a member of the ABA's Board of Governors. In 2006, he was appointed as a public member of the Liaison Committee on Medical Education, the accrediting agency for U.S. and Canadian M.D. programs; after completing a six-year term, he was the first recipient of the LCME's Distinguished Service Award. He is an elected life member of the American Law Institute. Locally, Winograd has received an Outstanding Contribution Award from the State Bar of New Mexico and currently serves as an officer of the Albuquerque Bar Association and board member of Law Access New Mexico.