Final Freak Out, UNM Law Style
November 24, 2014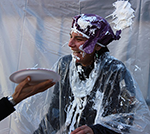 Seven UNM Law School faculty and six staff members showed what good sports they were by volunteering for a pie-throwing contest during "Final Freak Out" on Monday. They donned garbage bags and goofy shower caps and went outside on a chilly fall day to receive a pie (or two or three) in the face. It was all for a great cause: to relieve stress a week before finals and to help raise money for a local non-profit.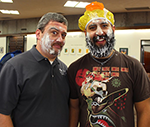 Final Freak Out was the brainchild of the Women's Law Caucus (WLC) and the Mexican American Law Student Association (MALSA). The event raised $225 for PB&J Family Services, helping at-risk children to grow and develop to their full potential in nurturing families within a supportive community.
In addition to the pie-throwing contest, activities included therapy dogs, chair massages, popcorn, a piñata, a Zumba class, and a bouncy house.
Faculty volunteers for the pie throwing contest were Professors Maryam Ahranjani, Barbara Bachman, George Bach, Jennifer Laws, Serge Martinez, Alex Ritchie, and Kevin Tu. Staff volunteers were from our IT Department and Media Services: Tony Anderson, Chad Covey, Daniel Cisneros, Jerry Gonzales, Mitch Maloy, and Ian Van Deusen.
Student organizations that donated money to the fundraiser, in addition to WLC and MALSA, were the Lambda Law Student Association, the Student Bar Association (SBA), the Student Health Law Association (SHLA), and the Women's Golf Association (WGA).