Students place second for best brief in national moot court competition
April 28, 2015 - Tamara Williams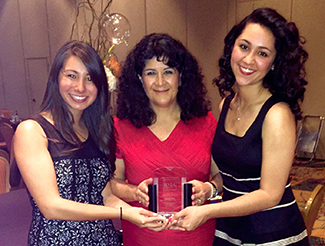 Larissa Lozano ('16) and Jaymie Roybal ('16) prepared for months, writing their brief and practicing their oral argument skills before some of the most well-regarded and respected members of the legal community.
Then they put their skills to the test at the Hispanic National Bar Association Moot Court Competition in San Antonio from March 18-21, 2015.
Lozano and Roybal performed very well under pressure. Out of 32 teams nationwide, they placed second for best brief and advanced to the quarter-finals.
Judge Monica Zamora ('87) of the New Mexico Court of Appeals coached the students for months. "Larissa and Jaymie were tremendous ambassa dors for the UNM School of Law and did an excellent job of representing the school at the HNBA's academic annual competition and professional conference," said Zamora.
Preparing the brief, practicing before the legal community
The students received the competition brief shortly before winter break and spent the majority of break working on it – reading precedent, coming up with their argument and writing.
They weren't allowed to receive any help on the brief from our coaches, and when they were finished, the brief totaled 40 pages.
About a month and a half before the competition, coach Zamora set up three practices a week at the Court of Appeals to fine-tune the students' oral argument skills. Each practice session involved panels of practicing local attorneys and judges who provided feedback for the students.
"The practice sessions were invaluable because each panel presented a different view and novel questions to the problem," says Lozano.
Roybal says that because they practiced in front of new judges each day, "we had to constantly refine our arguments and be prepared for new questions each time."
Prepared and ready to compete
By the time the pair left for the competition, they felt prepared and excited to present their arguments in front of the judges and argue against the other teams at the competition.
"We couldn't have asked for a better preparation to go into the competition and we felt so lucky to receive guidance from some of the most well-regarded and respected members of the legal community," says Lozano. "I think a large part of our enjoyment and success was due to our coach, Judge Zamora – she was always ready with encouragement, advice, suggestions, and humor."
Roybal says, "Getting to work directly with Court of Appeals Judge Monica Zamora, refining our writing skills, learning how to be strong oral advocates and performing under high pressure — these will each stay with us throughout our legal careers and beyond."
Lozano and Roybal agree on the overall experience – "it was amazing and truly priceless."