Summer work experiences in Indian Law
September 10, 2015 - Tamara Williams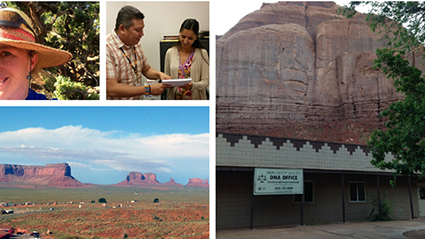 Students build skills, explore career paths, serve communities
With the help of the Office of Student & Career Services, students built a portfolio of hands-on experiences and prepared for their careers by working with Tribal and U.S. Government Offices, non-profit organizations, and private law firms this summer.
"These real world experiences are critical in helping our students identify career preferences and gain confidence in the professional competencies required to succeed in the legal profession," says Heather Harrigan, Assistant Dean for Student & Career Services.
"The ability to gain practical experience while in law school also increases our students' marketability and is a significant factor in the law school's strong employment outcomes."
Below, a few of the students who are working on Indian law issues this summer share their stories.
Government
Tribal
Leia Viscarra '17
Troy Ward '17
Federal
Bryan Rowland '17
Non-Profit
Concetta Tsosie de Haro '16
Megan Horning '17
Louis Malette '17
Private Firms
Nikke A. Alex '16
Diana Doublehead '17
April Wilkinson '16