Prof. Sherri Burr celebrates final season of Arts Talk with a Wrap Party on April 29
April 21, 2016 - Tamara Williams


Professor Sherri Burr and students in her Intellectual Property and Entertainment Law classes filmed Season 19 – the final season – of Arts Talk with Sherri Burr, a local-cable television show that runs on Comcast Channel 27 on Mondays at 6:30 p.m.
Burr and her students are celebrating Arts Talk with a Wrap Party on Friday April 29, from 5 pm - 7pm at DSG Art Gallery, 510 14th St. SW, Albuquerque, NM; https://www.visitalbuquerque.org/listing/dsg-fine-art/172/
The Wrap Party is free and open to the public. Please RSVP by April 27 by visiting: http://whoozin.com/KMJ-FDN-A6PU
See the attached flyer (PDF).
Season 19 with Judy Chicago, UNM Law School student Dan Cornish, and Hakim Bellamy
The final episode of Arts Talk airs on Monday, May 9, 2016, with legendary artist Judy Chicago (known for "The Dinner Party" in the Brooklyn Museum of Art).
Season 19 also include interviews with graduating law student Dan Cornish, who is also an actor in "The Merry Maids of Madness," and Albuquerque's first poet laureate Hakim Bellamy:
AT Season 19 Episode 1 - Dan Cornish: https://youtu.be/RgddP2Rjt3M
AT Season 19 Episode 2- Hakim Bellamy: https://youtu.be/118Q3QGlicU
Arts Talk Awards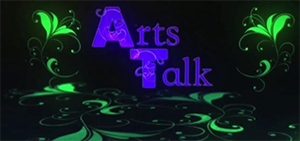 Arts Talk has received nine awards, including first place in the category of Talk Show, Television from the New Mexico Press Women New Mexico Communications Contest 2015, and first place in the 2013 New Mexico Press Women Awards.
The most recent award for "Max Evans & Friends" was second place in the category of Talk Show (radio or television) from the National Federation of Press Women and the New Mexico Press Women state affiliate.