Law School celebrates Class of 2016 Commencement
May 24, 2016 - Tamara Williams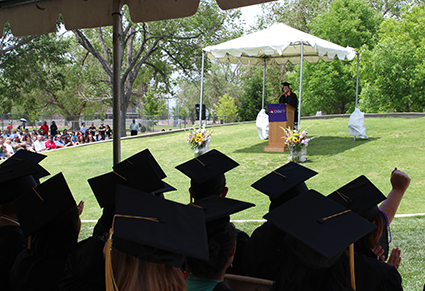 Keynote speaker New Mexico Supreme Court Justice Barbara Vigil provided wise counsel to the UNM Law School Class of 2016.
At the 2016 Commencement Ceremony on Saturday, May 14th, Vigil focused her remarks on what it means to achieve success, the importance of honor and integrity, and a reminder to always try to achieve a healthy balance in your lives.
She concluded by congratulating graduates on their great accomplishment, saying, "You have succeeded, and many opportunities in the legal profession await. Be open to a change in direction, work hard in every endeavor, big or small—find your passion—be courageous, and defend the truth," said Vigil. "But, most importantly take care of yourselves and cultivate that which enables you to develop the empathy necessary to accomplish great things."
Dan Cornish ('16) says that during the ceremony, his thoughts skipped to the future and he reminded himself of an "adage from my basketball-playing days: never look at the step beyond until you've climbed the one in front of you." He adds that he "will forever remember the celebration, camaraderie, and sense of togetherness of my Law School Commencement."
See more photos on UNM Law School's Facebook Page!