Leigh Messerer receives Don G. McCormick Writing Prize
October 26, 2016 - Audrey Jaramillo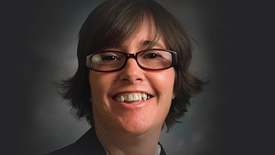 Leigh Messerer ('18) received the Don G. McCormick Writing Prize for a brief she submitted in her ELA class in Spring 2016.
The case concerned the issue of whether state adoption proceedings for an Indian child who falls under the Indian Child Welfare Act should be transferred to the jurisdiction of the child's tribe.   
This $2,000 prize, previously established in McCormick's honor, recognizes the student whose writing best exemplifies the qualities of clarity, conciseness, ethical advocacy and rigorous adherence to proper legal citation, and is awarded following an annual student writing competition each year.
About Don G. McCormick

Don G. McCormick was born in Oklahoma in 1907. He attended the University of Oklahoma, obtaining his L.L.B in 1933. He practiced law in New Mexico, mainly in Carlsbad, from 1933 until his death in 1986. He was instrumental in the drafting of the New Mexico Uniform Jury Instructions – Civil, served on the Board of Governors of the American Bar Association, was elected a Fellow of the American College of Trial Lawyers, and was a member of the Association of Trial Lawyers of America.
McCormick believed that lawyers had a duty to communicate effectively, with precision and honesty, and that an attorney's character, as well his or her ability and intellect, was on display in every written communication the attorney produced.