"Cultural Literacy for Lawyers" presentation at 12:30 pm on Tuesday, October 25
October 24, 2016 - Tamara Williams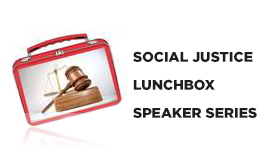 The UNM Corinne Wolfe Center for Child & Family Justice invites law students and the legal community for lunch and a lively dialogue about how to meaningfully, respectfully and authentically engage with clients who are different from them
"Cultural Literacy for Lawyers", the first event in the Social Justice Lunchbox Speaker Series, will be held on Tuesday, October 25 from 12:30 –1:30 pm in Room 2401 at the law school.
Guest speakers include Regis Pecos, Co-Founder and Co-Director of the Santa Fe Indian School Leadership Institute; the Honorable John L. Romero, Jr., Children's Court Judge; and Cristen Conley, Sr. Attorney at the Corinne Wolfe Center for Child & Family
Justice.
The Social Justice Lunchbox Series is supported by the W.K. Kellogg Foundation.