UNM School of Law launches new Master of Studies in Law (MSL) degree program
October 31, 2016 - Tamara Williams
Fills growing need for professionals with some legal training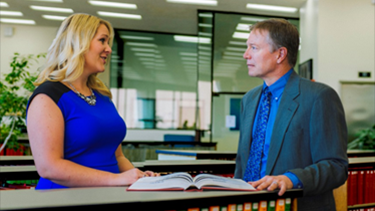 UNM Law has launched the Master of Studies in Law (MSL) program for mid-career professionals and recent college graduates who want to enhance their career with legal education relevant to their field or interests.
The 30-credit degree can be earned in one year of full-time study or up to four years of part-time study. MSL students take courses at the law school relevant to their current or future jobs along with students pursuing their Juris Doctorate (J.D.). The program offers concentrations in Indian Law and in Natural Resources and Environmental Law.
The new degree will help fill the growing need for non-attorneys with a working knowledge of the law in New Mexico. "Employers in federal, tribal, state and local government, the national labs, and private-sector fields are enthusiastic about the MSL degree because graduates will gain solid credentials and legal expertise," says UNM School of Law Dean Alfred Mathewson.
The MSL program provides intensive training in the law and enhances skills in critical thinking and analysis. "MSL students will study the law and analyze cases, and they learn about laws, regulations, and policies that apply to their field of interest," adds UNM School of Law Dean Sergio Pareja. "Graduates will gain skills that will distinguish them in the workplace."
The one required four-credit introductory class provides background in the U.S. legal system and the study of law.  It is intended to prepare students to take upper-level law classes. "Students choose the remaining 26 credit hours (approximately nine courses) depending on their course preference, area of focus or optional concentration in Indian Law or in Natural Resources and Environmental Law," explains Daniel Ortega, Director of the UNM MSL program. "We're very excited about this new program.  It is limited to eight students, so anyone interested in an MSL should apply soon.  Applications from people interested in part-time study are especially encouraged."  
Competitive applicants will have strong academic records and/or substantial work experience.  More information can be found at msl.unm.edu.